Trump Facing New Allegations Of Sexual Misconduct From 43 Women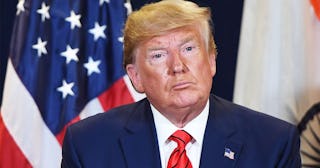 SAUL LOEB/AFP/Getty
Donald Trump faces new sexual misconduct allegations from almost 50 women in a new book
Up until today, about two dozen women had come forward with allegations of sexual assault or misconduct against President Donald Trump. Today, that number has jumped up to over 60. In the forthcoming book All the President's Women: Donald Trump and the Making of a Predator, journalists Barry Levine and Monique El-Faizy present 43 more women with sexually inappropriate stories about the president, including 26 instances of sexual assault.
The authors shared an excerpt from the book with Esquire, who refers to the book as "a portrait of a predator who hides behind wealth and institutional power to frequently harass and abuse women." In the excerpt, a woman claims that while attending a party with her husband at Trump's Mar-a-Lago resort, Trump grabbed her vagina and forcibly kissed her without her consent.
Karen Johnson told the journalists that she was at a New Year's Eve party at Mar-a-Lago in the early 2000s with her husband and a relative when she broke off from her group to go to the bathroom and was accosted by Trump, who was hiding behind a tapestry.
"I was just walking to the bathroom. I was grabbed and pulled behind a tapestry, and it was him. And I'm a tall girl and I had six-inch heels on, and I still remember looking up at him. And he's strong, and he just kissed me," Johnson recalls in the book. "I was so scared because of who he was… I don't even know where it came from. I didn't have a say in the matter."
After the incident, Trump continued to call and harass Johnson for several weeks, insisting that he fly her out to Mar-a-Lago. She protested, stating she wasn't interested and also pointed out that she was taking care of her husband, who had multiple sclerosis at the time, to which Trump said, "Don't worry about it, he'll never know you were gone."
Years later, Johnson heard the Access Hollywood tapes and told the journalists, "When he says that thing, 'Grab them in the pussy,' that hits me hard because when he grabbed me and pulled me into the tapestry, that's where he grabbed me — he grabbed me there in my front and pulled me in."
Johnson avoided coming forward with her truth because she feared not being taken seriously, citing her past as a dancer.
"What he did was very traumatizing to me. And it still is. You know, I didn't ask for that. I was literally just walking through a room…no matter what my past is I don't deserve to be treated that way," she added. "This is about a monster, an immature child running around who has no respect for anybody but himself and his giant ego."
At this point, Trump has been recorded saying "grab 'em by the pussy," has partied with accused child molester Jeffrey Epstein, has been accused of sexual assault or inappropriate behavior by more than 60 women, and has paid off porn stars. What else does the president need to do before his base recognizes that the man is a serial predator?