Donald Trump Wants To Ban Abortion And Now 'The Handmaid's Tale' Is Real And Women Will Die
by Liz Henry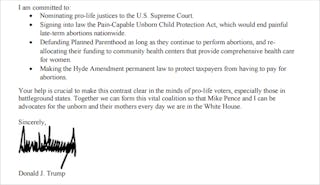 Donald J. Trump for President, Inc.
Last week Donald Trump sent a letter to anti-abortion leaders detailing his commitment to nominate anti-abortion supreme court justices, defund Planned Parenthood, ban abortions after 20 weeks, and make permanent the Hyde Amendment which bars low-income women from using Medicaid funds for abortions.
And then Jimmy Fallon tousled Mr. Trump's hair on the The Tonight Show and cable news endlessly covered his admission that President Obama is, in fact, an American citizen, so no I would not be shocked if you did not know that Mr. Trump has huuuge plans to ban abortion.
A vote for Donald Trump is a vote to make women's lives worse. It's that simple. As noted by Rebecca Traister at New York magazine, a Trump plan would promise "[…] a court stacked with "pro-life justices" that will make abortion — and judging by the direction of his party, possibly several forms of contraception — illegal; the concretization of a law that makes full access to health care and control over reproduction unavailable to poor Americans; a 20-week rule that would make abortion illegal before the point in gestation at which many fetal abnormalities are diagnosed."
If this doesn't sound like a dystopian nightmare full of forced births and second class status for women, then please read The Handmaid's Tale and get back to me. If Mr. Trump becomes president, it's not four years of "shaking things up," it's decades. Planned Parenthood will cease to exist which means no breast or cervical cancer screenings so women will die. Forced births of children with terrible genetic abnormalities so horrible, painful deaths for actual babies. Women with preeclampsia will probably die. Women hemorrhaging through a miscarriage will die. Women without the means to receive a "back alley abortion" will die. Or they will be punished with jail time, which is a thing Mr. Trump said he wanted before he disavowed his own statement.
A vote for Trump then is a vote for women's deaths. This is not hyperbole. It is not an exaggeration to assume under a Trump presidency that my daughter — all our girls— will be playing a game of Russian roulette with their lives every time they have sex. I do not want that kind of life for my girl, or any woman I know. I cannot let it happen. We cannot let it happen.
Abortion is not a mythological medical procedure stuck on fantasy island. The next time you're at a girls' night out with 10 of your friends, three of them had an abortion — if you're around the age of 45 — and one of them may be you. The majority of women who have abortions are already mothers, which means abortion is part of our everyday lives — we're just not flashy about it. Men get to shout from the rooftops about their limp dicks with endless commercials about "erectile dysfunction" like that's a real fucking problem that exists (which it isn't) while women whisper-down-the-lane about their abortions. It's infuriating; this sexist double standard that allows for the imperfection of men's bodies and seeks to correct them publicly while we condemn the bodies of women as suspicious and seek to control them. As the HBO show Veep concisely concluded, "If men got pregnant, you could get an abortion at an ATM."
PREACH.
I felt that line in my soul.
I feel the same way about my abortion as I do the wrist surgery I had when I was 8 — I don't think about it at all. If I do, it's with relief. I did not want another child, and I do not have the child I did not want, this is a win. Sometimes in life, you do get to correct a problem: The pregnancy was a problem, and I corrected it. My life has been made better by my abortion, and if another woman or girl believes her life will be made worse by giving birth, then I trust her judgement. I trust my daughter to know when it's the right time to become a mother, and I will fight to make sure abortion remains legal and accessible without Trump branding each and every single woman and girl one of his properties.
This article was originally published on