Donald Trump Signed Some Bibles Yesterday And The Internet Is Exploding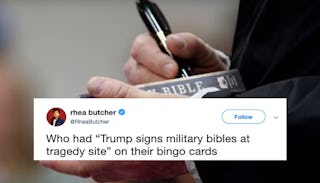 Image via YouTube/Twitter/Rhea Butcher
The rapture might really be coming now
While visiting Alabama yesterday in the aftermath of the devastating tornado destruction, Donald Trump stopped by a local Baptist church. And, since this is Trump we're talking about here, of course the visit couldn't be stoic and supportive or even remotely normal. Nope. He decided to sign a few Bibles while he was there.
HE. AUTOGRAPHED. THE. BIBLE. Several of them, in fact.
Signing books is a totally normal thing to do — if you're the author of them. Donald Trump, uh, did not write the Bible. So it's more than a little odd, yet somehow completely in character for someone like him.
The community of Opelika, Alabama, has mobilized in the wake of the terrifying EF-4 tornado that struck rural Beauregard last weekend. The tornado is responsible for the deaths of 23 people — it's the deadliest tornado to hit the U.S. since 2013.
It makes sense that the President of the United States would pay a visit to an area that is now in crisis after a natural disaster. What does not make sense, not one lick of sense, is why Trump would grab a couple of Bibles and a Sharpie and go to town on them. And can we please talk about how he signed the cover? THE COVER.
To be fair, someone did ask him to autograph their copy. But he just kept right on going with it.
Naturally, the internet exploded over this because come on — how could you not react? It's absurd, at the very least, and utterly sacrilegious at worst.
As if we could forget the downright dastardly move of Trump's when he visited Puerto Rico after Hurricane Maria. The hurricane claimed more than 4,000 American lives and he couldn't even be bothered to do more than make a half-assed attempt at tossing some paper towels.
Southern historian Wayne Flynt, a Baptist deacon and Auburn University professor emeritus, tells AL.com that signing a Bible is "right next to sacrilege. That's a holy book," he says. Flynt also said he wasn't surprised Trump would autograph a Bible because "there is nothing that shames the president."
The people that gathered to greet him in the church didn't seem to mind, however. Many of them cheered as he defaced the cover of their holy book with his odd, squiggly signature that looks more like the design of Charlie Brown's sweater than it does actual letters in the English language.
While he was there, he also spent some time autographing other items, like hats and, for whatever reason, $100 bills.
Personally, the Bible doesn't carry any spiritual or religious meaning to me. I can appreciate it as a historical document, and I can say I find it interesting overall. But even I, heathen and agnostic that I am, can recognize the absurdity at play here. This right here would make my Presbyterian church deacon grandmother clutch her pearls on sight.
But it's just another day in this warped reality, isn't it?