Donald Trump Calls Coronavirus A 'New Hoax' Created By The Democrats
by Julie Scagell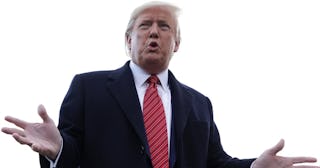 Alex Wong/Getty Images
Trump lumped the coronavirus scare in with the impeachment "hoax"
Donald Trump spoke at a campaign rally in South Carolina a day before the Democratic primary, telling his base that the global outbreak of the coronavirus is actually just a liberal conspiracy similar to his impeachment trial, calling it "their new hoax."
Trump went on to blame the press for inciting panic about the virus, which has now spread to China, Japan, South Korea, Iran, Italy, and the U.S, infecting almost 90,000 people and killing more than 3,000. As of today, three new confirmed cases of the coronavirus contracted from an unknown source were reported in Washington state, Oregon, and California, bringing the total number of "community spread" cases in the United States to four, NBC News reported.
"The Democrats are politicizing the coronavirus. They're politicizing it," Trump said during the rally. "They don't have any clue. They can't even count their votes in Iowa. No, they can't. They can't count their votes. One of my people came up to me and said, 'Mr. President, they tried to beat you on Russia, Russia, Russia.' That did not work out too well. They could not do it. They tried the impeachment hoax. And this is their new hoax."
Americans don't need the coronavirus to be politicized or downplayed — we need scientific facts from experts in the medical field. We're receiving emails from our children's schools about contingency plans. We're watching the news seeing new cases popping up all over the world. We don't need it compared to the flu because it's not the flu and there is no vaccine. Speaking about a virus that's killed thousands as a "hoax" is abhorrent.
He also blamed the country's "open border" policy for the spread of the virus. "Whether it is the virus that we're talking about or many other public health threats, the Democrat policy of open borders is a direct threat to the health and well-being of all Americans. Now, you see it with the coronavirus. You see it. You see it with the coronavirus. You see that. When you have this virus or any other virus or any other problem coming in, it's not the only thing that comes in through the border and we are setting records now at the border," Trump said.
Trump met with reporters before he left for the rally, offering up a word salad of epic proportions about the state of those infected (presumably he's talking about the Americas infected aboard a Japanese cruise ship), reassuring Americans that the government is "ordering a lot of different elements of medical."
While the president sorts out his official statement on the virus, the CDC has stressed that the best defense against contracting the coronavirus is preventative measures like washing hands with soap and water, cleaning frequently touched surfaces and objects like cell phones, and covering coughs and sneezes.