Donald Trump Is The Most Dangerous Man In America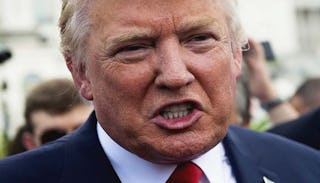 US Republican Presidential hopeful Donald Trump speaks with reporters during a Tea Party rally against the international nuclear agreement with Iran outside the US Capitol in Washington, DC, September 9, 2015. AFP PHOTO / SAUL LOEB (Photo credit should read SAUL LOEB/AFP/Getty Images)
Yesterday, team Trump hit a new low when the campaign issued a press release effectively calling for a ban on all Muslim entry into the U.S. That's right — a candidate for President of the United States of America wants to ban followers of the second most popular religion on the planet from entering this country: immigrants and travelers alike. Even Muslim American citizens who are now abroad would be refused re-entry in Trump's bizarro world. From the release:
"Donald J. Trump is calling for a total and complete shutdown of Muslims entering the United States until our country's representatives can figure out what is going on."
Until our country's representatives can figure out what is going on? This press release reads like it was written by a fourth grader. The release sites skewed, right-wing-backed research to essentially endorse the completely un-American action of closing our doors to all Muslims. In the statement, Trump claims the "hatred" is beyond comprehension and until we are able to "determine and understand this problem and the dangerous threat it poses" we cannot be the victims of "horrendous attacks." He ends with, "If I win the election for President, we are going to Make America Great Again."
Here's what Trump's "great America" looks like:
In August of this year, two men invoking Trump beat up a homeless man while making anti-immigration statements. From CNN, "'Donald Trump was right,' the two men said, according to police, as they beat the man with a metal pipe and then urinated on him. 'All these illegals need to be deported.'"
In November of this year, after a protestor yelled Black lives matter! during a Trump rally, Trump stopped his speech and made a plea: "Get him the hell out of here, will you please?" Trump supporters then punched and kicked the protestor, even choking him at one point. When Trump was asked about the assault he said, "Maybe he should have been roughed up. It was disgusting what he was doing." Just to be clear, he's speaking of the non-violent protestor here, not any of the several men who physically assaulted that protestor.
At an August Trump rally in Alabama, two supporters screamed White Power! after one of Trump's particularly xenophobic speeches about building a "Mexican wall" to keep immigrants south of the border.
Prior to this election, Donald Trump was just a punchline for bad hair jokes and a celebrity businessman made popular by his no-nonsense attitude and You're Fired! catch phrase. He wasn't scary in the beginning of his presidential bid because he was still more of a celebrity than a political figure. Who knew he was so xenophobic? Who knew he would become the mouthpiece for so many people who are terrified of those who look different from them or practice a different religion?
The special thing about Trump, and why his followers are so devoted, is because he says all the things such a huge percentage of the population has been just dying to say for decades. The only thing that's stopped those people is the fear of being a social pariah, because before Donald Trump coined it "anti-political-correctness" we just referred to it as "racism," and it wasn't en vogue. Before Trump coined "Make America Great Again," we just referred to it as xenophobia — or a fear of people who don't look like you. It's painfully clear what "Make America Great Again" means to Trump and his supporters: make it as white and as Christian as possible.
His numbers keep climbing. That is terrifying. The reality of Trump possibly getting the Republican presidential nomination means that nothing about this man is funny anymore: not his hair, not his stupidity, not his arrogance — nothing. Those funny Trump memes, the cats with the Trump wigs, and all the other jokes we make about this man are masking the simple truth that he's becoming the most dangerous man in America.
And that is a terrifyingly unfunny joke.
This article was originally published on