Donald Trump Didn't Mention Melania At All In His Mother's Day Message
by Christina Marfice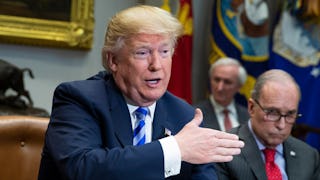 Image via Alex Edelman-Pool/Getty Images
Donald Trump's Mother's Day message had no mention of any of his wives, and the internet's not having it
In the words of Donald Trump himself, Mother's Day is "one of the most important days of the year… a special opportunity to thank all of the mothers and grandmothers in our lives." Only he had a little trouble sticking to that message himself.
In a video message shared to Twitter on Mother's Day, Trump thanked American mothers, saying "Since the earliest days of our republic, America's strength has come from the love and courage and devotion of our mothers."
He then went on to give a long and touching tribute to his own late mother, Mary MacLeod. Only one thing was missing from the message (or really, three things, if we're being picky), and the internet was quick to point it out.
That's right. Trump didn't make a single mention of his wife, Melania, the mother of his son Barron — or either of the other two mothers of his children. It was a snub that didn't go unnoticed by Trump's critics.
While we can't confirm that he was actually golfing, Trump did spend Mother's Day at one of his golf clubs, according to a White House pool report.
This isn't the first time Trump has snubbed Melania on social media. He drew quite a bit of criticism when he tweeted to wish her a happy birthday… using a photo that he was front and center in.
He was called out in January for completely failing to make any public mention of his and Melania's anniversary, which is a far cry from the Obamas, who make us sob yearly with their sweet anniversary tributes to each other.
And it looks even worse for Trump that even his son Donald Jr. wished his wife, Vanessa, a heartfelt happy Mother's Day while they're in the midst of a divorce.
When Twitter continues to make for one embarrassing gaffe after another for this president, wouldn't it just make more sense to drop the social media and focus on, I don't know, governing? Now there's a Mother's Day gift we would all love.