Donald Trump: We Parents Of Children With Special Needs Are Going To Hold You Accountable
by Lauren Shepard for The Mighty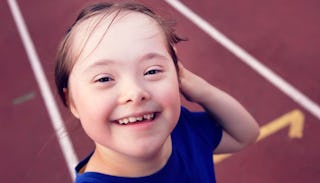 DenKuvaiev / iStock
Dear President Trump,
I am writing this letter to you today to explain why I have been crying in the months after learning you were going to be our president. Did you know we have been weeping? I cannot speak for the millions of others who I hear have been crying in this diverse nation we live in, because I have not walked in their shoes; I can only speak for myself​. I am very scared, and I want to know what your plans are on a few very important issues that affect the life, the actual heart, of my child.
At 26 weeks in utero, we learned that my daughter would be born with a congenital heart defect. At 28 weeks, we learned she would also be born with Trisomy 21, commonly known as Down syndrome, a genetic condition linked to heart defects and various other potential health issues.
I am crying because in the days after we learned of our daughter's diagnosis, the only thing we were really afraid of was the rest of the world and how it would treat her. The R-word instantly stung, and we were suddenly acutely aware of the subtle, underlying, ableism that we were not aware of before. When I heard you had been accused of mocking a reporter with a disability, I gave you the benefit of the doubt at first, because even given the various distasteful remarks that were a part of your campaign, this was much more so. I sought information in your defense. What I found as your defense was that you've been making the same gesture with your arms and making the same odd voice for some time now, when mocking someone whose views you disagree with.
Defenders pointed out that in the case of Serge Kovaleski, you weren't specifically making fun of his disability, it was just the way you "mocked" people. But the thing is, I remember that from elementary school. That's how children mock people with cerebral palsy, Down syndrome, autism, and other disabilities. Ann Coulter remembers too, according to her distasteful remarks in your defense. Do you remember? It's almost a relief to think you aren't even aware that you were doing it, that it's just ingrained in you.
Almost, but then again, it is terrifying. You haven't listened when the disability community let you know they were offended, but instead defended and denied your actions. You are now our leader! Shouldn't our leader be the one who listens when no one else will? I ask that you listen — what you've done is hurtful, and frightening, because as the leader of our country you've given the rest of our society permission to behave the same way. To marginalize while claiming they aren't marginalizing. That's dangerous. Don't take offense when we tell you this — how were you to know? — but do apologize.
I assume you do not have a relationship with a person with Down syndrome, because if you did, I would think disability rights would have been a more visible part of your campaign. I would like you to know Down syndrome is the best thing that has happened to myself and my family. The other children and adults I have met who have Down syndrome have altered my world view and garnered my respect for their optimism and resilience. My now 2-year-old daughter with Down syndrome is already a valuable part of her community. The Down syndrome community does not want or need sympathy. People with Down syndrome are not suffering from Down syndrome — they are living with Down syndrome.
I also want you to stop for a moment and think about having to constantly and passionately defend Ivanka, Tiffany, Eric, Donald Jr., or Barron's very existence in this way. Defending their worth in this world.
And while I am not writing today to discuss the fact that the vast majority (the number varies from around 65 to 92% depending on which study you look at) of fetuses diagnosed in utero with T21 are terminated, I will assume that given your stance on abortion, you would not suggest this as a better alternative to bringing a baby with Down syndrome into this world. Certainly given how adamantly you were opposed to the thought of "ripping babies out of the mother" in the third trimester, which is approximately when we learned of my daughter's conditions, it appears you believe she has a right to live.
So given that we agree that my daughter deserved to be born, and given that she contributes and will continue to contribute as much to our society as you or I (honestly, I feel like she may contribute more than I have already) I wonder how you plan to continue to protect her, since she may or may not be well-equipped to protect herself.
I also have a few additional questions for you.
1. I understand you would like to repeal Obamacare (and I know you are not alone in this desire). I would like to know what you plan to replace it with. My daughter was born with a heart defect she had repaired at 3 months old. She sees various specialists to watch for a list of additional potential health issues she is at higher risk for. It is my hope that surely our country won't desert my daughter and the millions like her, who are at risk of instantly being denied private insurance due to a pre-existing condition while she is still under 26 and on our insurance (or possibly 18, depending on whether or not you also plan to cut that part of the Act), or potentially losing her Medicaid coverage if you roll back the Federal increase in Medicaid spending.
I've seen a few proposals floating around, but I want to know what you plan to do, because I have seen little information on the specifics, except that you are most definitely getting rid of the only thing that is protecting my daughter's life and the well-being of my family at this time. If we were to have to pay out of pocket for her care, we would easily be in devastating debt within several months, and would continue to fall into greater debt with each passing week. Currently, we are contributing members of the U.S. economy.
Can you see how this is frightening? I want to know you have her in mind as you work to craft something better.
2. I've heard a lot from you about large employers being responsible for caring for our citizens. What if my daughter can't find gainful employment? How will you help protect her? We are already doing all we can to put a plan in place for her, should something happen to my husband and I, but our plan also involves some degree of government support, rather than relying solely on a future employer to make sure her needs are met. Can you tell me what you plan to do for those Americans who might not be able to work a traditional job, or who might have a minimum wage job for life due to a cognitive or physical disability, possibly due to unfair hiring practices rather than their own abilities? If your plan is to rely on the free market to help support our citizens, how do you intend to continue to make sure that is happening: that the profits of our largest corporations are, in fact, "trickling down" to our most vulnerable people?
At this point, I want to mention that we don't know what my daughter will be capable of. She may very well be able to hold a traditional full-time job. Her ability to do so may also be determined by the path our country takes as she grows. It's important you know that.
3. Finally, I would like to hear whether you value her worth, even though she may not meet your traditional standards of beauty. We've already agreed that you believe she had a right to be born. Do you believe she has as much right to respect and dignity as you do now that she is here? Do you think she deserves to be treated like a person and not an object, given that she is both female and has a disability? I would like to give you the opportunity to say as much, because while I haven't heard you not say it, I have also heard you say several things that suggest the opposite.
In conclusion, I am still weeping, but I have hope. I have hope because you have remained silent on the question of disability rights until now, so perhaps just asking might be enough? I'd like to remind you that this minority group, "the disabled," is the only minority group that any one of us could find ourselves a part of at any moment, including you or I. Not that this should matter, but I am aware that it might to you.
I'd also encourage you to keep in mind that the parents of children with special needs are some of the most resilient, passionate, and unrelenting folks, and you'd much rather have us with you than against you. We come from all ethnic and economic backgrounds all across the country and vote for different people, but the one thing we have in common is our magnified love for our children — something to keep in mind as we make our way forward.
I have not been very involved in politics or activism in the past, but I can assure you I will be asking more questions, listening harder, and speaking out louder now, and I am sure I will not be the only one. Thank you for helping me find my voice.