Of Course Donald Trump Stared Right Into The Eclipse Without Glasses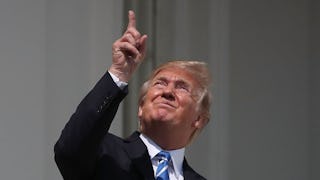 Image via Mark Wilson/Getty Images
Donald Trump photographed enjoying the eclipse — without glasses
Donald Trump did that thing that scientists have been warning us about for weeks: stared straight into the sun during the eclipse without glasses. Because science is dumb and he has enough money to look into the sun, dammit. And you can't stop him. Don't even try it. You're fired.
My preschooler managed to follow this simple directive, but Trump could not.
Yup, there he goes. Melania has her glasses on. Barron is looking down.
He's still staring straight into it. Notice the smirk on Melania's face. She's thinking, "I'm not saying anything. He's a grown man."
"My eyes are the best. They're better than your eyes. They can look directly into the sun without consequence," he's thinking.
Wall Street Journal's Ted Mann tweeted that someone shouted, "Don't look," as Trump glanced up at the sun.
Twitter was quick to point out exactly how perfect it was that Trump stubbornly looked into the sun, ignoring all common sense and advice.
Eclipse glasses, smershmitz glasses. Apparently his family finally convinced him to put them on.
So here's this image that isn't disturbing at all. Nope. Not at all.
This article was originally published on