Donald Trump Attacks 'Boring' John Legend And His 'Filthy Mouthed' Wife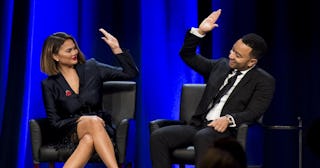 Bill Clark/CQ Roll Call
Trump calls out John Legend and Chrissy Teigen — and they fired back
Last night, it appears the President of the United States was watching the TV and feeling a bit cranky, like nutty grandpas are wont to do, and decided to tweet his frustrations with… John Legend and Chrissy Teigen?
Buckle up folks. Things are about to get really weird.
It seems Donald Trump was watching MSNBC Sunday night and saw the town hall on criminal justice reform that the station was airing. The special featured Legend and Lester Holt.
Trump tweeted that he and fellow Republicans should be getting praise and credit for signing the First Step Act into law last December. It allows for thousands of federal prisoners to be released earlier than they would've, eases mandatory minimums, and gives judges more freedom in sentencing. The legislation had bi-partisan support and was partly handled by his son-in-law Jared Kushner. He was more than a little upset that he wasn't getting enough pats on the head for it.
He then got extremely personal with his little hissy fit and while he tagged Legend individually, ensuring his vile spew would end up in the award-winning singer's mentions, he merely referred to Teigen as "his filthy mouthed wife." Holy. Shit.
I mean, these are simply not the words of an individual of sound mind. This man is losing it.
In true John and Chrissy fashion, the two absolutely weren't having it. Legend appealed directly to Melania asking her to please come get her man and make sure he's feeling validated.
Of course, Teigen went straight for the jugular — and the gigantic LOL. We expect nothing less from the actual queen of Twitter.
She deftly pointed out that she literally had nothing to do with the special that had his panties all bunched up — she wasn't even mentioned in it.
Teigen also shared that while the President was calling her filthy mouthed, she was busy making Luna's first day of school sign. What a wonderful memory for the little girl one day.
Then, the pair got #PresidentPussyAssBitch trending because it's 2019 and this is the content we need and deserve.
Can we quickly note how absolutely delicious it is that Trump is possibly scared of Teigen? Of course he is, because otherwise, he would've tagged her along with her husband and Lester Holt. It's clear as day that intelligent, outspoken women terrify him and that's what makes her response all the more amazing.
This entire situation also brought us this fantastic bit of internet gold that Teigen eagerly retweeted.
While an exchange this positively bonkers would follow any other president (or politician, for that matter) for the rest of their born days, this little blow-up will be forgotten by next week because this is just another day, sadly. This is Trump's America where norms have almost fully dissolved and all we're left with is a tantruming bully instead of the leader this country needs.
This article was originally published on