Donald Trump Says The U.S. May Raise The Age Of Vaping To '21 Or So'
by Julie Scagell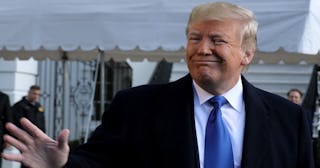 Chip Somodevilla/Getty
President Donald Trump said the age should be increased to help stop the vaping epidemic
In yet another signature move, President Donald Trump voiced his opinion on vaping by tossing out a word salad that loosely addressed the epidemic, giving his solution to the problem which involves raising the legal age to purchase.
Trump announced this week that the legal age at which people can purchase e-cigarettes "may" rise, which is fitting given the amount of recent research that's coming out about the health risks of vaping, which is becoming increasingly popular among teens. But it was his delivery, per usual, that left everyone with more questions than answers.
"We're going to be coming out with a very important position on vaping," Trump said in a press conference captured by CNBC. "We have to take care of our kids, most importantly, so we're going to have an age limit of 21 or so, so we'll be coming out with something next week."
"Twenty-one" or so?
To make matters worse, the FDA doesn't actually have the authority to raise the smoking age, so the Trump administration can't pursue such a policy, but many state and local governments have raised the smoking age to 21 from 18 and others banned the sale of flavored e-cigarettes altogether. Trump made the announcement at the White House, which was a follow-up to last year's announcements and ones again in September from the administration that the FDA would be taking action to ban the use of e-cigarettes by minors.
According to the CDC, more than 450 people have developed lung-related illnesses, but the numbers continue to increase. The FDA issued a warning in 2018, calling vaping among teens "an epidemic." The CDC also reported at least 39 deaths and 2,051 lung injuries have been linked to e-cigarette use. So far, the tobacco industry appears to support the newer restrictions but what, if anything, they will do to be a solution rather than add to the problem remains to be seen.
Younger and younger kids are getting addicted, with older siblings and friends buying and selling vapes to them. Not that increasing the age to "21 or so" isn't the right move, but more needs to be done to educate young kids on the serious health risks and deaths that have occurred as a result of vaping.
Trump and top health officials also said in September that they were preparing a ban on the sale of flavored e-cigarettes, but his speech Friday suggests the administration may be back-pedaling amid pressure from vaping advocates and manufacturers who say these flavors help people quit smoking and could impact employment from vape shops closing as a result.
"We have a lot of people to look at, including jobs, quite frankly," Trump said. "Because, you know, it's become a pretty big industry."