Here Are The Easiest Ways To Donate Diapers To Harvey Victims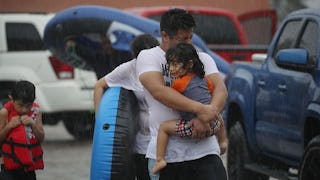 Image via Joe Raedle/Getty Images
The Texas Diaper Bank is accepting donations
Texas parents who are trying to shepherd their children through the disaster of Hurricane Harvey are going through unimaginable pain and difficulties right now. They have some enormous issues that they have to handle, so maybe we can help them with some of the smaller ones, like having diapers for their children.
The Texas Diaper Bank is taking shipments of donations, but there are also three easy ways to donate to them online:
The Texas Diaper Bank is currently accepting donations both via shipment and online. If you'd like to ship them some donations, here are their current needs: "Any brand and any size baby diapers, pull-ups, adult diapers, formula, and wipes. We need primarily the larger sizes of diapers, pull-ups, and adult diapers. New or gently used baby items — clothes, blankets, bottles, breast pumps, small toys, etc. Please refrain from donating cloth diapers — many families will not be able to wash them."
Here are some more frequently asked questions about donations:
Since 1997, the Texas Diaper Bank has been working to "close the diaper gap" for infants, children with disabilities, and seniors within ten counties in southern Texas. Now, it's using its resources to help survivors of Hurricane Harvey.
Let's do what we can to take some pressure off the minds of parents of young children and older adults with incontinence issues.