Donate Money Instead Of Canned Food, And Here's Why
by Lisa Sadikman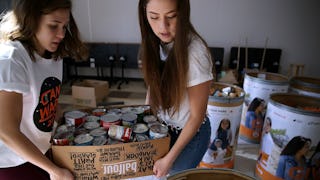 Justin Sullivan / Getty Image
It's that time of year: Tree lights are twinkling, the Peppermint Mocha is back, and the retail deals are to die for. So many of us are fortunate enough to enjoy hot meals and sweet treats with our dear friends and freaky, funky families. There's always the possibility of seasonal affective disorder and material overload, but in general, it's the most wonderful time of the year.
This is true for so many, but certainly not all of us. Amid the abundance and joy is a real necessity and desire to give what we can to those in need.
If you're like me, your community makes this super easy. I'm talking about the multiple holiday food drives that pop up on seemingly every corner: the kids' school, our synagogue, the local bank. Just fill a recyclable paper bag full of canned goods, drop it in the bin, and voila, you've helped make the world a little cheerier for people who could use a helping hand and a hot meal.
Well, yes and no.
If we're being honest, the stuff that ends up in those bins is usually a mish-mash of overlooked goods from our own pantries, like that extra can of condensed sweetened milk we didn't use for the pumpkin pie and the mushroom soup no one in our family will eat. There are probably a few items we've picked up while doing our own shopping, like a box of mac and cheese or a bag of pasta. Put it all together and it's not exactly a full, or wholesome, meal.
Material donations are important and greatly appreciated by food banks, no doubt. Most nonprofits won't ever turn away a donation of any kind. The reality is, though, food banks can do so much more with our cash donations than our food donations.
"Every dollar donated translates into six dollars worth of food," says Cindy Houts, executive director of the Alameda Food Bank in Northern California. "We also purchase bulk food from wholesalers, which means a substantial reduction in cost."
According to Katherina Rosqueta, executive director of the Center for High Impact Philanthropy, local food pantries can often obtain far more food with fewer dollars through a network of food pantries. "The same $10 that you would spend to, say, get three cans of food, could actually buy retail value 20 times more food," she says. "And that can be the difference between just providing enough for lunch for a couple of people to actually feeding a family of four for a week."
That's a heck of a lot of buying power. What's more, a lot of the food donated to food pantries gets wasted — as much as half, according to Rosqueta.
"The bigger bang for buck," she says, "is not from the food that's not being used that goes into food drives. [It] comes from taking advantage of all of the food that would be wasted, but that could actually go to feed families across the country when regional food banks are able to purchase it from this national network."
Clearly, if we want to make a meaningful impact, it's better to give money than donate a can of yams. Yeah, I know, writing a check can feel impersonal and not nearly as caring as actually buying food and delivering it to the food bank, but if helping as many people as we can this holiday season is the ultimate goal, clicking the "Donate Now" button is the way to go.
I'm not saying you should stop contributing actual food to food drives, especially if a cash donation is not in your budget. And as a parent, I really appreciate the way hands-on philanthropy helps my kids understand that there are people in our very own city far less fortunate than us. It's not easy to find volunteer opportunities for young kids, but taking my girls to the grocery store to buy food donations is a simple way for them to learn about kindness and giving. They like to pick out their favorite cereals and soups and snowflake-shaped pasta, imagining kids their own age enjoying the same food they do. We all end up feeling pretty darn good about ourselves for lifting up others during the season of giving. Yay us!
Experiencing that feeling of generosity wash over you is a big deal. Studies show that helping others gives us what's called a "helper's high." When we're filled with emotions like compassion and kindness, there's less room for negative feelings. There's also evidence that giving to others supports our health, lowering blood pressure, regulating weight, and countering depression.
Food banks understand this. That's why they'll never discourage anyone from spearheading a food drive. Giving is giving, no matter its form. And when people are in need, these agencies will find a way to make it work.
So, yes, take your kiddos shopping and have them deliver a bag of non-perishables to the nearest food drive bin. Better yet, if they're old enough, volunteer with them.
More importantly, though, give straight-up cash — and remember that a little goes a long way — to your local food bank or other organizations that provide food for hungry families. It might not feel as warmhearted as collecting food and driving it over to the warehouse yourself, but believe me, it's a much more impactful way to make a meaningful difference for those in need.
If you're looking to give this holiday season, and you can make it happen, money > canned food. Let the experts stretch that dollar to help as many people as they can.