Donating Your Old Mascara Wands Can Be A Huge Help For Rescued Animals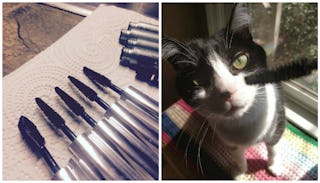 Images via Appalachian Wildlife Refuge Facebook/Instagram
Wildlife refuge wants your used mascara wands to help them treat rescued animals
The next time you're cleaning out your makeup bag, don't chuck your dried out mascara in the trash on top of that lip gloss you hated. Your old mascara might be worthless at boosting your lashes, but a wildlife refuge in North Carolina is looking for donations of used mascara wands for a great purpose.
Appalachian Wildlife Refuge is a non-profit organization which helps injured and orphaned wild animals in Western North Carolina. They're in the process of opening a new triage facility to accept more injured and orphaned animals and have an online wishlist of items they need. In addition to those items, they're also asking for donations of used mascara wands that have been cleaned.
Wildlife refuge worker Savannah Trantham explains that mascara wands are a really useful tool for refuge workers. A mascara wand's tight bristles make it the perfect tool for brushing fly eggs and larva out of animal fur. Once your old wands have been cleaned in hot, soapy water you can mail them to:
Appalachian Wild
P.O. Box 1211 Skyland, NC 28776
It's anticipated that the new facility will treat over 2,000 animals within the first year of opening, so they can use all of the brushes they can get. The Refuge is asking people who are sending old mascara wands their way to help spread the message by using the hashtags #smallbrushbigimpact, #Brushthebugsaway and #AppalachianWild on social media.
There are fantastic organizations to gift with those great unopened and unused beauty products you might have taking up room under your sink, too. That free gift with purchase from the department store you never touched, that buy-one-get-one deal on eyeshadow you couldn't pass up, even though you'll never finish the first pan — why not donate it? Dress for Success will accept unused beauty and personal care products to help women in need feel confident going into a job interview. Our Fairy Godmother takes gifts of unused beauty products and makeup to help make prom night special and more affordable. Most local women's shelters will also welcome gifts of unused makeup.
Used makeup is a different story. For sanitary reasons, most organizations can't accept it as a donation, even if you only used it one time. Now at least our old mascara can go to a good cause.
When it comes to mascara, it's best for your eyes to switch to a fresh tube at least every three months to avoid infections. Not all of us are great about changing to a new tube that often (I have a couple tubes old enough to be considered "vintage"). Now, Appalachian Wildlife Refuge is giving us a great reason to protect our eyes and help animals at the same time.