'Donors Choose' Makes It Unbelievably Easy To Donate To A Classroom In Need
by Sarah Hosseini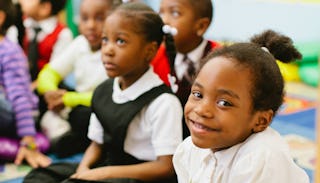 Image via Donors Choose
Pick a classroom project you're passionate about and donate to the teacher
It's no secret that teachers are increasingly coming out of their own pockets to buy classroom supplies and fund projects. Their needs often vary district to district, classroom to classroom. One teacher might need pencils for a writing unit, another might need instruments for a musical performance, and others might need microscope slides for a biology lesson. The sad truth is that sometimes these supplies are out of financial reach because of ever shrinking school budgets.
Thankfully, there's a an easy way for teachers to ask for these things now: the internet. A crowdfunding site, DonorsChoose.org, makes it a cinch to connect you with classroom projects you're passionate about and give to students who deserve it. All you have to do is go on the website, look at the projects, click on the one you want to donate to, and enter your dollar amount. You can do as small as one dollar. The organization calls it "citizen philanthropy."
The way it works is this: teachers register their projects with the site, they make a profile, explain their project, and give a very-detailed account of where all of the money will go. The organization requires teachers to give the whole run down and be very transparent. The projects are then reviewed by one of 200 trained superusers of the site.
"We are never actually looking at educational outcomes or judging the teacher," Chris Pearshell, director of brand and communications for DonorsChoose.org told the Chicago Tribune. "We want to make sure there is nothing that is unexpected and not related to the project." As you can imagine, the transparency is what builds the trust with donors. When a project is funded and completed teachers are then required to post six photos on the site of the project. That way donors can see their money in action.
Andy Yung is a preschool teacher in Queens, New York who has completed 95 projects on DonorsChoose.org. "Teachers know what they need in the classroom, but rarely have the say in making decisions to obtain the materials," Yung, who's goes by Mr. Andy, tells Scary Mommy.
One of Yung's most recent projects involved children exploring their senses. He asked for kinetic sand, sand molds, and a table to put the sand in. "Most of our students haven't even been to the beach to build with sand. The kinetic sand requested will help bring that experience into the classroom," he wrote.
After Yung's class received enough donations for the kinetic sand project he posted a thank you note on his page and said, "With the different tools available, they are able to develop their fine motor skills as they mold, cut, and maneuver the sand. Thank you very much for helping us expand our sensory table and help the kids of Pre-K make sense of their senses!"
Beyond pictures, those donors that chip in 100 dollars or more also receive handwritten thank you notes from the students and teachers. To that end, gratitude is one of lessons the kids learn too.
The site is great because you can also browse by most urgent projects – those with the highest need and the fewest days left until deadline. Or, you have the option to look at projects that are in your immediate area.
"I found projects that had zero donations and were on their last day of fundraising. And I think through the power of the internet and sharing, we funded somewhere from five to seven projects!" Kate Spencer, mom of two, tells Scary Mommy. It's incredible to think that people who don't even know each other are able to band together on this site for a really cool collective good: our kids.
Seeing the projects from start to finish and getting to be a part of that proud moment where you see a child being positively and profoundly impacted by your generosity is what it's all about. "It's cliched to say that children are our future, but they are," Spencer says. "I think it's our responsibility to help, especially in this unknown, scary time."
This article was originally published on