Why I Don't Drink Booze When My Kids Are In The Pool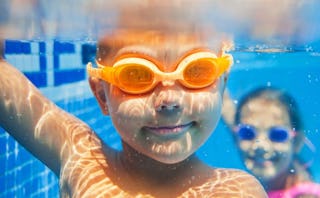 We were attending a holiday get-together at another family's home, and just like millions of other patriots that day, my husband and I were getting our drink on. After months of sleepless nights, toddler tantrums and the trials of having two babies under the age of three, we were letting off some steam with other parents in the same boat. And, since our friends lived within walking distance, we didn't need to worry about driving home.
Our friends had their pool open on that hot day, and it was filled with children, splashing and playing. As our children were still small and couldn't swim, we took turns spending time in the pool with our 3-year-old. After a few drinks, sunscreen, swimmy diapers and putting a bathing suit on my post-baby body didn't seem so bad. Our son enjoyed the water under our slightly inebriated supervision, and because he couldn't swim, we watched him like a hawk.
Or so we thought.
As the day wore on, we changed out of our swim clothes and continued to enjoy the camaraderie of grown-up conversation and commiseration. Red sangria with blueberries flowed between the wives, Coronas and limes for the men. Everyone was having a wonderful time, celebrating yet another year of national pride, fireworks and flag-bedecked napkins.
And then it happened.
Our son had wandered over to the pool area as we continued to enjoy cocktails and conversation. My husband was deep in conversation, his back turned to the pool. He was inches away from the edge, though, close enough that if someone had pushed him, he'd have fallen into the crystal blue water. Over my husband's shoulder, our friend noticed our son toddle over to the pool, bend down and reach for a blue pail that was floating along the edge of pool.
In a split second, our son toppled headfirst into the pool.
There was no screaming. No splashing. No yelling, "Mommy, help me!"
He didn't flail.
He just slowly floated down to the floor as if he were relaxing into a somersault.
Our friend told us that for a nanosecond, he wondered if our son could swim and realized immediately, as he watched our precious firstborn sink like a lead balloon, that he needed to react. He shoved my husband out of the way, dove into the pool and retrieved our son. Our friend brought him to the surface and handed him to my husband to start CPR. My husband was able to help our son clear the water from his lungs and, save for being upset that he still didn't have the blue pail, he was fine. None the worse for wear. The whole episode was over almost before it started.
I, however, missed the entire event because I was inside, drinking cocktails with my girlfriends, when my son fell into the pool.
I wasn't there at the most dangerous moment in his life, the precise moment that could have rewritten our family's history forever. I carelessly let my guard down and, in doing so, my son could have been permanently damaged. Or worse.
It happened so fast.
That's what everyone who witnessed his fall said to me. I heard, "I blinked and he was gone!" and "I was shocked that he just floated down to the bottom," and "Thank God your husband was right there!"
Ten years later, I still haven't gotten over the guilt.
After that fateful day, I made a choice: no booze at the pool when my toddlers were in the water. I also instituted a "Legs In" policy: if my kids were in the water, I was at the water's edge, legs dangling in the pool, just in case I needed to grab them out of the water. I turned down invitations to join private swim clubs that allowed alcohol poolside, choosing instead to join our community pool. I sipped seltzer and lime whenever we were invited to a poolside play date.
So often, I hear parents talking about having a few drinks poolside or joking about need to be drunk to survive summer water activities with their children. I see dads at the beach with coolers of beer and moms sneaking wine into the pool in insulated mugs. Trust me, I get it, and believe me when I say I am no teetotaler. I love a summertime cocktail just as much as the next gal, but I'm not willing to imbibe when my children are in or near the water.
It happened so fast. Too fast.
In the blink of an eye, my life as a mother today could have looked dramatically and tragically different.
And I have found that seltzer with lime is refreshing and tastes like a tiny bit of summertime peace of mind.
This article was originally published on