Why I Don't Invite The Whole Class To My Kids' Birthday Parties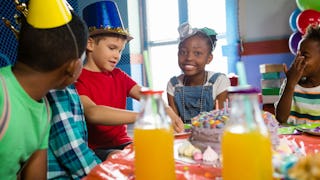 Wavebreakmedia / Getty Images
With three kids in elementary school, you can imagine how many birthday invites come home in their backpacks or in the mail. Chuck E. Cheese. Sky Zone. Halloween-themed. Holiday-themed. Pool parties and skating parties and arcade parties. We've seen them all.
And while it's nice to be invited, my kids don't attend many of them. Why? Because they may not actually be friends with your kid. Seriously. They don't have 22 friends. No one does. Also, when birthdays come around in this house, you probably won't get an invitation in your kid's backpack either. That's because, when our children's birthdays come around, we don't invite the entire class. If your kid doesn't play kickball with my son during recess, or isn't on his soccer team, and my kid thinks his name is John but it's really Peter, he's not on the list.
If you talk to your kids regularly, you get to know the names of their "real friends." A few names pop up in daily conversations, so I know who their friends are (or at least I know their names). So when an invite comes home for some child I've never heard of, I'm going to pause before responding.
The first thing I do is ask my child if they are friends with so-and-so. Like, really friends. I'll ask if they play together. What this child is like. If my kindergartener clearly can't pick this kid out of a lineup, then it's probably a hard pass on the party, but thanks for the invite.
Because here's the thing. I have three kids. Each kid has around 20 kids in their class. If my kids attended every flipping birthday party, that's 60 parties at 20 bucks a pop for gifts. And if you think this mama is dropping more than a grand per year on gifts for a bunch of kids we don't know (even if they're sweet as pie), well, I've got bad news. Because we ain't.
Also my kids are all enrolled in sports and extra-curricular activities and we have a huge extended family. So our weekends are pretty packed as it is. Now, if one of their closest friends is having a birthday party, we prioritize it. But if we already have games, practices, and a family event, as well as a list of house projects to do, we might not make it to little Johnny's bowling bash. I won't leave you hanging—I'll always RSVP—but if my kid doesn't play with your kid, we likely won't be there.
And as for our own house, we operate under the same principle. I am not opposed to doing something special for my kids' birthdays, but we aren't inviting 20-something kids. Because my kids don't have 20-something friends. They have like 6, if that. And that's who we'll spend their birthday with. We do not need random toys from a bunch of kids we don't know. We do not have endless supply of cash to blow on birthday parties so crowded the birthday child doesn't know who was there and who wasn't. And we do not need to be responsible for a bunch of kids we don't know for two hours on a Saturday.
Plus, the best part about keeping the party on the smaller side is that I usually know the parents and communicate directly. Hey — Birthday Kid wants to have their party Saturday the 10th. Your kid free around 1? And we go from there. No waiting around for RSVPs or guessing who's going to show up. I know I'll have to feed 8 kids pizza, and 8 kids' servings of pizza we'll have.
However.
There is one positive that comes out of inviting the entire class, and that message is not lost on me. Inviting all 23 loud, grubby kindergarteners means everyone gets an invite. EVERYONE. I would never want my kids to be responsible for one or two kids feeling excluded or being the cause of hurt feelings. Thankfully, I know most of the students in my children's classes. I also talk to my kids often about their classmates and ask if everyone has a friend at recess, has someone to partner up with, etc. So if there is a child in their class who may not typically receive an invite, we make sure to include them. By the same token, if we receive one for their party, we take it seriously so they don't end up with a bunch of no-shows.
What we don't stress about is the gaggle of 9-year-olds my son has never mentioned, or the rowdy boys who steal my daughter's pencils to "be funny" and get her attention. If she doesn't want them at her "let's make a craft and get glitter all over Mommy's kitchen" party this year, she doesn't have to put their names on the list.
Childhood birthdays are special and we only get a few with our kids that they'll truly remember. So why share them with a bunch of kids we don't know? Instead, we'll choose to spend our special day with those we love—family and close friends—doing what we love. And that probably includes a nerf gun battle, painting a birdhouse, or playing video games (depending on the kid) — but there's always a lot of cake, and lot of laughter, and a lot of joy.
This article was originally published on