Donut Smash Baby Photos Are The Best Idea, Ever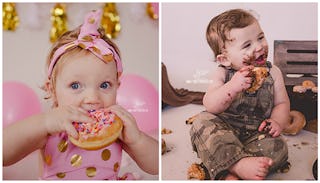 Image via Lindsey's PhotoCo
Donut Smash photos are your new favorite thing
The first time your child gets their hands on sugar is a funny moment. Mine screamed, "Yeah!" for a good ten minutes after his first bite of cake on his first birthday. A baby experiencing sugar for the first time is just a priceless (and sometimes hilarious) moment: hence the cake smash tradition.
The cake smash photoshoot has become a right of passage for babies. Presumably, a child hasn't had much sugar in the first year of his life, so on that first birthday it's super fun to unleash a sugar bomb and watch your child's reaction. But why stop with cake? That was one photographer's question. She answered it spectacularly.
Introducing, the donut smash.
Photographer Lyndsey Wright got a little bored of the usual cake smash, and decided to branch out. "I was doing a lot of cake smashes and it was getting redundant," Lyndsey tells Scary Mommy. "I wanted to get outside the box a bit so I started asking parents if their babies had a favorite table food and if they'd want to do a smash with that instead of the traditional cake." You may remember Lyndsey from our favorite smash idea, ever — the taco smash. She's all about working outside of the cake-box. In addition to donuts and tacos, she's done BBQ smashes, popsicle smashes… the possibilities are really endless.
"I'd say 75+% of the babies I've done cake smashes for have hated them," Lyndsey says. "They're either scared of it, don't like the texture, don't like the taste, or just flat out want nothing to do with it. A lot of them have never seen or eaten cake or icing before so it's new and scary for them." No one in my gene pool is scared of cake, but I can see how a giant blob with frosting on it may be disconcerting to a child. But it's clear that these little hand-held pieces of heaven are a hit.
"I've come to learn if you give a baby a food they know and enjoy and the session is SO much more successful with much less crying," Lyndsey tells Scary Mommy.
Chubby little toes and frosted donuts? We'll take an order of each.
This article was originally published on