The First Trailer For The New Live-Action 'Dora The Explorer' Movie Is Here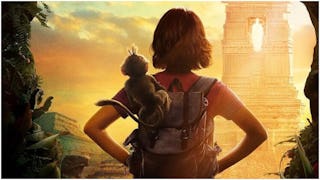 Image via Paramount Players
Dora the Explorer is getting the live-action treatment and it looks very, very good
For years, you've hung out with your kids and watched Dora and her pal Boots solve mysteries (or maybe you did it solo – zero judgement). Now, everybody's favorite backpack-wearing adventurer is heading to the big screen with a live-action film that looks genuinely entertaining. Get ready to sing do-do-do-do-Dora.
Here's the whole adventurous deal. The film is called Dora and the Lost City of Gold and it features a teenage Dora (Isabela Moner), who is forced to leave the jungle and face some super scary, super unfamiliar terrain: high school. She ends up getting pulled into a mysterious mission when she's brought to a lost city, alongside a few of her new classmates. Among those teens is Randy, "a fellow high schooler who develops an immediate crush on Dora" and Sammy, "the school's snooty class president." Don't worry, Boots is also along for the ride.
Prepare to be very, very intrigued. Also, hi Eva Longoria and Michael Peña.
Pretty good right? I'm ready to pack my backpack immediately.
The rest of the internet was also completely on-board with the trailer. Like, more so than they expected that they would be.
Solid gold entertainment aside, the new Dora film is breaking boundaries in some very big, important ways. Moner told Collider that the movie features an all-Latino cast, which is part of the reason she decided to sign on.
"Either way, if this movie [Dora] is a flop, which I doubt it will be, but if it is, I'm going to be so happy that I did this and it's out there. I can say, 'I did that shit. Like, I did that!'" she said. "I hope I inspire all the little Hispanic girls and boys out there. That's who I'm doing this for."
Moner added that she's gotten to see first-hand the love that children have for Dora – and it's been a powerful experience.
"We had a bunch of kids visit the set, some of them are Make-A-Wish kids, some of them are crew members' kids who visit, and when they freak out about meeting Dora, I'm like, 'damn, this is it. This is what I do this for,'" Moner said.
https://www.instagram.com/p/BvR89EyAbsk/
Sadly, we have to wait until August 2nd for the film to hit theaters. In the meantime, I guess we should all watch Dora re-runs and keep a vigilant eye out for Swiper.