Research Suggests Double-Masking Can Vastly Increase COVID Protection
by Valerie Williams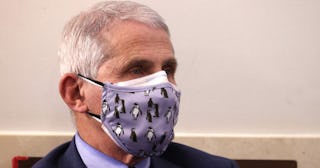 Tasos Katopodis/Getty
New research from the CDC suggests that double-masking can decrease transmission of COVID-19 by up to 96.5% — but only if both parties wear two masks
As many parts of the country struggle with getting people to wear even one mask, the Centers for Disease Control and Prevention (CDC) is now publishing new research that suggests wearing double masks could help reduce virus transmission by a pretty astounding amount — 96.5 percent, providing both an infected person and the infected person they are near wear double masks, or a more tightly-fitted surgical mask.
New research by the CDC reported by The New York Times shows that wearing a cloth mask on top of a surgical mask or just surgical mask that fits very snugly can reduce virus transmission by that drastic of a percentage. Of course, it's a tall order to get society on board with wearing two masks when it seems to be a huge ask for some jerks to just wear one, but imagine that — a 96.5 percent less chance that an infected person could sicken someone else. Seems worth it to me.
CDC director Dr. Rochelle P. Walensky shared the agency's findings at Wednesday's White House coronavirus briefing. Walensky gave the news along with a request for Americans to wear "a well-fitting mask" that has two or more layers. This goes along with President Biden's message in his very first days in office asking all Americans to wear a mask for the first 100 days of his administration.
After a year of hearing the messaging about masks, Walensky emphasizes that with the new COVID variants popping up, it's more important than ever that we mask up. "With cases, hospitalizations, and deaths still very high, now is not the time to roll back mask requirements," she said. "The bottom line is this: masks work and they work when they have a good fit and are worn correctly."
Dr. John Brooks, chief medical officer for the CDC's COVID-19 emergency response, feels the results of the agency's research suggest wearing a close-fitting surgical mask along with a cloth mask is a good option. He tells ABC News that masking, period, is one of the best things we can do to reduce spread. "Universal masking is one of our most potent interventions to control the pandemic, we believe."
Brooks was sure to note that the new study was based on lab experiments, so we don't know yet how the double-masking recommendations will perform in real life. "But it's very clear evidence that the more of us who wear masks and the better the mask fits, the more each of us benefit individually."
"When all of us mask, not only does it giving us some personal protection. But by each of us doing that, we're protecting other people," he said.
Walensky and Brooks aren't the only high-profile experts speaking out about the idea of double-masking. Dr. Anthony Fauci recently declared that wearing two masks "likely does" help because "it just makes common sense that it would be more effective."
"This is a physical covering to prevent droplets and virus [from escaping or entering], so if you have a physical covering with one layer, you put another layer on, it just makes common sense that it likely would be more effective," Fauci told Today on January 25, 2021. "That's the reason why you see people either double masking or doing a version of an N95."
Fauci himself has been spotted wearing double masks in recent weeks and if it's good enough for him, it should be good enough for us. We are coming up on a year of living mid-pandemic and by now, we're all over it. If all of us putting on an extra mask means a possibly huge reduction in transmission, it's more than worth it.
This article was originally published on