Doughnut Wedding Bouquets Are The Best Idea Ever, TBH
by Christina Marfice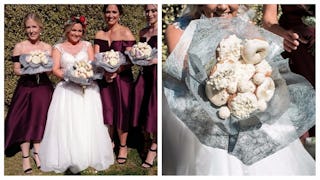 Image via Daniel Suarez
Doughnut bouquets might be prettier than flower bouquets
Being in a bridal party is hard work. There's all the organizing leading up to the big day — the planning, the shower, the bachelorette party. There's helping the bride get dressed and made up to walk down the aisle. And then there's standing up in front of everyone through the whole ceremony, which can take a while. You know what would make it so much easier? Snacks.
That's what one genius Australian bride realized, and then she blessed her bridesmaids with bouquets made out of not traditional flowers, but doughnuts.
Paige and Steven Kirk have now gone viral for their wedding photos, taken by Daniel Suarez of Gold Coast Wedding Photography, in which the bride and all her friends are carrying gorgeous bouquets of white powdered and frosted doughnuts.
"Me and my husband Steven thought it would be different, fun and light-hearted," Kirk told the BBC. "We wanted the wedding to be a bit different and really reflect who we are as a couple."
At first, Kirk wondered what guests would think of the unconventional arrangements, but said that all her guests "loved them."
"Everyone thought it was hilarious, and the venue couldn't believe it," she added. "Brides should be a bit more relaxed and have fun!"
OK, so this wasn't entirely Kirk's idea. She actually won a contest put on by Dessert Boxes, a dessert delivery company. She was chosen from a number of brides-to-be to have doughnut bouquets made for her big day.
"When we spoke to Paige, we knew she was our winner," a Dessert Boxes spokesperson told Buzzfeed News. "She was so fun and light-hearted, and we knew she'd rock the bouquets as she walked down the aisle."
But Kirk and her bridal party rocked the bouquets, and they didn't even eat them, she said, which seems like it would be the best part/actual point of having an armful of doughnuts at a wedding.
"We had plenty of goodies beforehand so we were too full too eat them," she said.
We only wish we could have seen that bouquet toss. Forget being next to get married — we just want the doughnuts.