GOP Lawmaker Punches Wife For Not 'Undressing Quickly Enough' For Sex
by Valerie Williams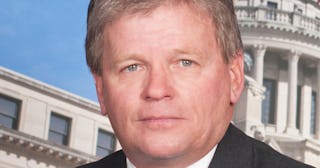 Mississippi House of Representatives
Mississippi State Rep. Doug McLeod was arrested on a misdemeanor domestic violence charge
In today's dispatch from the party of Family Values we have Mississippi State Rep. Douglas McLeod, who was arrested recently for allegedly punching his wife in the face. His reason for being a violent and abusive lunatic? She wasn't undressing quickly enough to have sex with him. What a guy.
The 58-year-old lawmaker and father of three was reportedly intoxicated by the time police arrived, according to the Sun Herald. The George County Sheriff's Department's report says McLeod was holding a glass of alcohol when law enforcement showed up at his home shortly before 9pm on Saturday. Deputies wrote in the report that McLeod had punched his wife's face, bloodying her nose. There was also blood found on their bed and bedroom floor.
It sounds like good ol' Doug wasn't any too pleased to have his horrifying behavior reported to police, as he shouted, "Are you kidding me?" after opening the door to see a deputy who told him they were there in response to a reported domestic assault. He then reportedly went back inside the house yelling, "the cops are here," as another deputy arrived at the home.
The Mississippi republican then stumbled back to the door and headed outside, where he "had slurred speech and walked slow in a zigzag pattern." Deputies report he was so drunk he had to hold the stair railing to stand up. Inside the home, two women, including McLeod's wife, were found standing at the top of the stairs. His wife would only come down after being assured that police would keep her husband away from her.
A deputy noted that she was shaking and upset, telling officers that her husband "just snapped" as he often does while drunk. After the assault, she ran to the other woman's room, who let her inside and locked the door. That's when McLeod banged on the door, threatening to "kill her (expletive) dog" if she didn't open it. She refused to go to the hospital via ambulance, but did say her daughter would go with her to the doctor so her injuries could be documented for authorities.
Early the next morning, McLeod was booked into George County Jail on a misdemeanor domestic violence charge and released on $1,000 bond.
By Tuesday, Mississippi senator David Blount was calling for McLeod's resignation.
Later that day, House speaker Philip Gunn made a statement requesting the same. "I have attempted to contact Rep. McLeod to request his resignation, if in fact, these allegations are true. These actions are unacceptable for anyone."
Unsurprisingly, McLeod is also consistent in voting against abortion access in his state, including the recent "heartbeat bill." In fact, he co-sponsored one such bill this past January. He seems to think life is precious unless it's the life of a woman who won't get naked fast enough for him to have sex with her.