A 'Downton Abbey' Movie Is Officially Happening -- This Is Not A Drill
by Cassandra Stone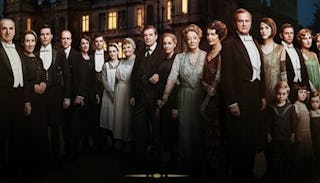 Image via Instagram/Downton Abbey Official
Hold onto your bonnets because Downton Abbey is going to become a movie
The Crawley family is back together at last — but this time, they're heading to the big screen. Yes, that's right, Downton Abbey (also known as everyone's favorite Masterpiece Theater sensation) is now going to become a movie. This is not a drill. Brew a cup of your favorite tea and settle in for this exciting news.
The original cast is set to return for the film, too, which is everything. Production will begin later this summer, and the show's creator, Julian Fellowes, has already written the screenplay. Downton Abbey left our television screens (but not our turn-of-the-century British aristocracy-loving hearts) back in 2015 after six years.
Cast members announced the amazing news on social media today.
Michelle Dockery, who plays Lady Mary, is the classic love-to-hate, hate-to-love character whose romantic endeavors centered the show. But she's brilliant at it, so we're very excited to see what's in store for her and her new husband, Henry Talbot, played by Matthew Goode. Any anglophile worth their salt knows that Matthew Goode is about as Goode as it gets (I'll see myself out).
Joanne Froggat, who plays the beloved Anna Bates, also announced her excitement via Instagram.
Perhaps what makes Downton so binge-worthy is the soap opera-esque drama performed by an exceptionally talented group of actors who have amazing chemistry. Prior to this show, we didn't often hear about British period dramas being so viral and GIF-worthy. Add in the costumes, the decadent castle that makes up Downton itself, and Dame Maggie Smith and it's literally impossible not to fall in love with this show instantly.
Aside from being the perfect form of escapism — and who doesn't need escapism when everything is terrible all the time — Downton is so beloved, it's fun to watch collectively. Live-tweeting, blogs about the costumes and the overall historical accuracy, and the GIFs — all of it makes for a fun, engaging time.
The series itself is the most Emmy-nominated series in television history, and fans everywhere are thrilled it's heading to the big screen.
"Since the series ended, fans of 'Downton' have long been waiting for the Crawley family's next chapter," Focus Films chairman Peter Kujawski told Variety. "We're thrilled to join this incredible group of filmmakers, actors and craftspeople, led by Julian Fellowes and Gareth Neame, in bringing back the world of 'Downton' to the big screen."