'Downton Abbey': A Very Downton Christmas, and a Near Satisfying Finale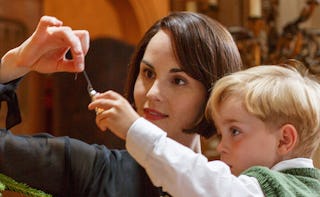 Stowell then seeks vengeance on his employer and unites with an unlikely ally—Thomas, who also got a tongue-lashing from Sinderby at dinner. They manage to invite Sinderby's mistress and illegitimate child to the castle the following night. But all this plot really accomplishes is to showcase Rose at her best, as the clever and loyal woman that she is. She immediately runs to mistress Diana's side and introduces her as a friend, even though no one in the family recognizes her at all. This swift thinking saves Sinderby from a night of humiliation, and in return he expresses deep gratitude to the daughter-in-law he once underestimated. He's even willing to invite her parents over for a future visit. I guess shielding your family from embarrassing indiscretions can lead to a massive change of heart.
The other major story this week is Anna's arrest. She reveals to Bates that the police have discovered a violent incident in her past. Yes, Anna stabbed her abusive stepfather. I almost wish Downton dabbled in flashbacks so we could witness a badass Anna in action. I also wish this information was revealed earlier in the show so we could see how this past trauma informed how she psychologically processed her rape. It seems a vital part of her personal history and no doubt impacted her recovery. Anna's survived a lot, and we can now add a murder rap to that list, as Bates professes guilt to set her free. I guess it's romantic, but nothing about Bates really seems romantic. The guy has been accused of murder on more than one occasion, after all. Of course, this being a Christmas episode, he gets out of jail as well and the couple rejoices amid candlelight and carols.
And speaking of romance, Carson and Mrs. Hughes get engaged! Their relationship always seemed to be based more on mutual respect than physical attraction, but perhaps that makes their union even sweeter. After Mrs. Hughes admits to spending all her savings on her ill sister, Carson insists on buying a house for both of them to spend the rest of their soon-to-be-retired days. After years of holding down the fort at Downton, they deserve a restful future together.
Their witty banter and acute perceptions make them the Waldorf and Statler of Downton. These women deserve a balcony of their own.
Meanwhile, Violet and Isobel turn down a respective proposition and proposal. I was actually pleased with this turn of events. No lords or Russian Princes, or at least none of the ones introduced thus far, seem a proper match for either of these women, especially when they already have each other. Their witty banter and acute perceptions make them the Waldorf and Statler of Downton. These women deserve a balcony of their own.
And as Christmas comes to a close, the family bids farewell to Tom as he heads to America, taking Sybil with him, though he promises to return at some point. And with that, a season full of flirtations, fond friendships, and failed marriages comes to a nearly satisfying end.
This article was originally published on