Florida Fertility Doctor Will Brave The Hurricane To Help Potential Parents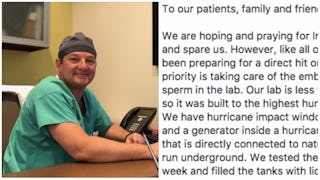 Image via Facebook/Dr. Armando Hernandez-Rey
He's staying put through Hurricane Irma to protect his fertility clinic
As Florida braces for Hurricane Irma, hundreds of thousands are evacuating to safety. But that's not an option for one fertility doctor, who's sticking around to protect his practice.
He knows for many of his patients, it's their only hope to become parents.
Dr. Armando Hernandez-Ray is a successful reproductive endocrinologist with a clinic stocked full of eggs, sperm, and embryos, and he's riding out the dangerous hurricane in order to preserve them.
He took to Facebook to explain his decision and detail the protections his clinic has in place.
He wants to make sure the many patients who use his practice, Conceptions Florida – don't have anything to be concerned about. The clinic does approximately 400 in-vitro fertilization cycles a year for couples who are struggling to conceive, and he knows that for some of them, this is their last chance.
"We've got so many [samples] stored," he told the Huffington Post. "We're affiliated with the cancer center, so we have probably about three or four samples from men who are about to start chemotherapy. They stored with us to preserve their fertility. If we lose that, they've got none left."
With the region bracing for the storm, third-party centers that might usually be able to store the precious cargo were too overwhelmed by demand to take Hernandez-Ray's. Which makes him even more intent on protecting them.
Hernandez-Ray told the Huffington Post that one of his patients, a 40-something woman with a history of reproductive failure, was concerned about her embryos. "A patient, who is also a physician and a friend of mine, called me a half an hour ago and said, 'Listen, we're heading out. We're leaving, but I'm really wigging out about my one embryo."
He reassured her about the building's generator backup, the liquid nitrogen that will protect the materials for up to two weeks even if the power goes out, as well as more typical hurricane-impact windows and sandbags.
"Every hotel since Hurricane Andrew has to have hurricane-impact windows. The structures are different now. So it's not bravado," he said.
But he knows storms are unpredictable.
"Anything can happen. I just didn't feel comfortable leaving with the possibility that something could go wrong." The building has hurricane-impact windows, and Hernandez-Rey said they loaded up on sandbags.
Irma is moving fast, and no one yet knows the impact it will have. But even after Miami's mayor ordered evacuations, Hernandez-Rey stuck around to make arrangements for his patients and their potential futures.
He lived through Hurricane Andrew, having grown up in Florida, and can recall efforts of reproductive endocrinologists during Hurricane Sandy to rescue embryos when the power went out at NYU's fertility center. He and his family moved to a motel 15 miles away from his clinic. He's "cautiously optimistic" that he made the right decision.
"I think we're going to be OK. I think the city's going to be in shambles. But I've got to protect what's in the tanks."
During times of crisis, it certainly helps to know Hernandez-Rey's patients have such a dedicated doctor.