Dr. Fauci Action Figures Are Here Because Some Heroes Wear Face Masks
by Madison Vanderberg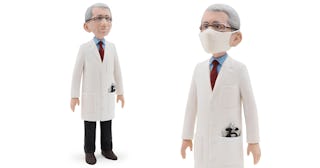 FCTRY
For $20 you can own a Dr. Fauci action figure
Not all heroes wear capes, some of them wear surgical masks and talk about science on CNN. We're talking about Dr. Anthony Fauci, director of the National Institute of Allergy and Infectious Diseases, and the unexpected superhero of 2020, here to save us with his no-nonsense approach to diplomacy and his belief in science. Upon realizing that Dr. Fauci is quite the gem, FCTRY — the makers of exclusively left-leaning, American political action figures — decided to turn Dr. Fauci into an action figure.
https://www.instagram.com/p/CFupvOgCG0m/
"The Dr. Fauci action figure is a spitting image of the Brooklyn-native, equipped with white lab coat, pocketed stethoscopes, coiffed hair, boyish good looks, and a removable mask of course," the company said in a statement. "Dr. Fauci (and all healthcare and essential workers) have become superheroes of sorts during the pandemic here in the U.S., and FCTRY decided to make it official."
The Fauci action figure stands 6″ in. tall and it's such a silly and cute idea that the company had to re-iterate that "yes, this is real." You really can buy a Fauci action figure.
"The year was 2020 and the world was on lockdown (and by 'world', we really mean everywhere except for Florida for some reason). Just when we thought all hope was lost for accuracy and truth in science, here comes Dr. Anthony Fauci swooping in with facts, data and recommended mask mandates to defend us all from the dangers of misinformation and Covid-19," FCTRY added.
The action figures are designed by Mike Leavitt, a Seattle-based artist who has spent the last 20 years mastering the craft of sculpted caricature, so really, these little Dr. Fauci's are a form of pop art.
On their Kickstarter, you can order your own Dr. Fauci doll for only $20, and for $40, you can get a Dr. Fauci/Nancy Pelosi double-pack because that glass case in your office needs a few more liberal icons sitting on it.
https://www.instagram.com/p/CFMzygRqsgT/
Buy your Fauci action figure here.
This article was originally published on