Dr. Fauci Isn't Seeing His Kids At Christmas & Urges Others To Do The Same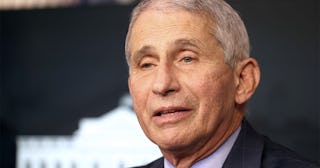 Tasos Katopodis/Getty
Dr. Fauci is having Christmas without his kids this year and asks Americans to make that same "painful" choice
This year has certainly been full of firsts for many: first pandemic, first quarantine, and first time distance learning, among many others. Over the holidays, we've only continued to add to the list, with many spending Thanksgiving apart from family, including Dr. Anthony Fauci, director of the National Institute of Allergy and Infectious Diseases. And with Christmas mere days away, the message from Fauci remains the same as it did just a few weeks ago: Keep your gathering small — and stay home.
With COVID-19 cases skyrocketing and COVID-related deaths on the rise, Fauci is keeping his Christmas gathering small this year — and he's urging Americans to do the same.
"I'm going to be with my wife — period," Fauci told The Washington Post. This is how he spent Thanksgiving as well, without his three daughters and solely with his wife, telling American University's Kennedy Political Union in October that he'd, instead, send his love via Zoom.
"The Christmas holiday is a special holiday for us because Christmas Eve is my birthday. And Christmas Day is Christmas Day. And they are not going to come home … That's painful," Fauci continued to tell The Washington Post on Wednesday. "We don't like that. But that's just one of the things you're going to have to accept as we go through this unprecedented challenging time."
With Johns Hopkins University currently reporting more than 17.1 million cases and more than 309,000 deaths in the United States alone, Fauci warns that Christmas celebrations could create an even more catastrophic spread of the virus than it did over the Thanksgiving holiday, when millions traveled despite pleas to stay home.
According to the New York Times, Wednesday saw 244,365 new cases reported and 3,607 deaths.
"Stay at home as much as you can, keep your interactions to the extent possible to members of the same household," Fauci stressed. "This cannot be business as usual this Christmas because we're already in a very difficult situation, and we're going to make it worse, if we don't do something about it."
Earlier this month, Fauci sat down with Today's Savannah Guthrie and told her that the pandemic is "at least as bad" as he had feared.
"You know, we're in a very precarious situation right now. there certainly is light at the end of the tunnel with a vaccine, but we're not there yet. So we really have to intensify our public health measures to try and blunt this trajectory, which is really significant," he said.
Fauci attributed the skyrocketing cases to a combination of things, including the weather, people spending more time indoors, and "a combination of the holiday season, people doing the normal, wonderful things of congregating together at meals with friends and family."
As innocent as those things may seem, those are, as Fauci continued to say, "the things in many respects that continue to drive this. And now that we're approaching the Christmas season, it's even more of a challenge. So this is a tough situation. It's not easy."
As for when we might get back to "normal," Fauci told CNBC on Wednesday that could happen by mid-fall — if enough people get vaccinated against the virus.
"If we can get the overwhelming proportion of the population vaccinated by let's say the end of the second, the beginning of the third quarter – by the time we get into mid-fall of 2021, we can be approaching some level of normality," Fauci said.
In the meantime, listen to the expert: Stay home and celebrate small. Please.
Information about COVID-19 is rapidly changing, and Scary Mommy is committed to providing the most recent data in our coverage. With news being updated so frequently, some of the information in this story may have changed after publication. For this reason, we are encouraging readers to use online resources from local public health departments, the Centers for Disease Control, and the World Health Organization to remain as informed as possible.