Dr. Fauci Receives The Moderna COVID-19 Vaccine
by Cassandra Stone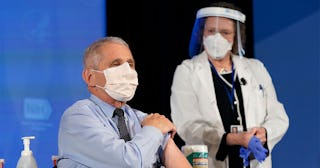 Patrick Semansky-Pool/Getty
Dr. Fauci was vaccinated at an event broadcast on live TV
The man who has helped guide an entire country through the worst public health crisis in modern American history has received the Moderna coronavirus vaccine Tuesday morning. The director of the National Institute of Allergy and Infectious Diseases was vaccinated live on TV, to boot.
Dr. Fauci was vaccinated alongside a number of frontline healthcare workers and Health and Human Services Secretary Alex Azar, National Institutes of Health (NIH) Director Francis Collins, and Office of Research Services Director Colleen A. McGowan.
"I consider it an honor to be part of this process," Fauci said after receiving the first dose of two doses. "I feel extreme confidence in the safety and the efficacy of this vaccine, and I want to encourage everyone who has the opportunity to get vaccinated so we can have a veil of protection over this country that would end this pandemic."
He was vaccinated in a live TV event in hopes that it would instill confidence in the vaccine's safety and efficacy. A number of politicians have received the vaccine publicly, including those who spent the majority of 2020 downplaying the virus and doing very little to provide correct information, financial relief, or putting proactive measures in place to help slow the spread — like Vice President Mike Pence, Senator Marco Rubio, and Senator Mitch McConnell.
Thankfully, President-elect Joe Biden received the vaccine on Monday. Dr. Fauci, who turns 80 this week, has always maintained that he would get the vaccine as soon as it was made available to him.
The Pfizer vaccine has been available to healthcare workers since Dec. 15. The Moderna vaccine, which scientists at the National Institute of Health helped develop and has the same efficacy rate as Pfizer's, is the second COVID-19 vaccination and will be a huge asset in immunizing as many people as possible to combat the brutal pandemic. Scientists say that the Moderna vaccine can be transported and stored more easily than Pfizer's, and the data suggests that it may be more effective at preventing severe disease.
Currently more than 320,000 people have died of COVID-19 in the US, and more than 18 million have been infected. Numbers are surging daily, and the rate of infections and deaths nationwide is at an all-time high since the onset of the pandemic. More than 3,000 people are dying from COVID-19 complications every day in the US.
Amid a grim reality, the vaccine offers a tiny sliver of hope that help is, at last, on the way.