Dr. Fauci Says 'No Super Bowl Parties' And COVID Deniers Freak Out
by Cassandra Stone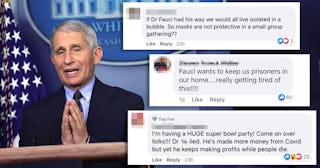 Alex Wong/Getty and Facebook
Precious snowflakes are pissed off that Dr. Fauci is advising against Super Bowl gatherings
Dr. Fauci, the nation's chief medical advisor on COVID-19, doesn't want the Super Bowl to turn into a superspreader event — which means he's advising against gathering for parties in honor of the big game. And while this absolutely makes sense, people who inexplicably care very deeply about the Super Bowl this year are very, very mad at the doctor's "orders."
"Watch the Super Bowl on TV, enjoy it, have a party in your house with your family with the people who are there," Fauci told ABC News chief anchor George Stephanopoulos during an interview for Good Morning America.
Just like holiday gatherings — which undeniably caused a major spike in COVID cases nationwide in December and January — gathering with people who live outside your household to watch the "big game" inside someone's house is also not a good idea.
Naturally, this public health recommendation did not go over well with the COVID denier crowd, who all think because they haven't gotten sick themselves, it must not be that big of a deal. So they're going to gather to eat their nachos and drink their beers no matter what Dr. Fauci says, damn it.
Because if it doesn't happen to YOU specifically, that's all that matters!
An isolated bubble is uh, exactly what the leading infectious disease experts are recommending! And masks greatly, greatly reduce the rate of transmission and the viral load expelled — but they are most certainly not a "Get Out Of COVID Free" card. You know what is? NOT GATHERING FOR THE SUPER BOWL.
Ah yes, we've all been suffering inside and alone for 11 months — let's give up now! And the "worry about me" attitude is so distinctly American. What these people fail to realize is that if you're still going out into the community (and it looks like these people sure are), even just for essentials, you're putting not just yourself at risk — but other people as well. So it's not just "I'm gonna do me" here. Your decisions affect everyone around you. Hence the whole public health crisis thing.
Who knew so many people who are not from Tampa Bay or Kansas City were passionate enough about both teams, the capitalistic mentality of the NFL, and spreading disease that they'd risk it all to eat out of the same Crock Pot as 12 other people just to watch Tom Brady win his millionth boring championship.
For anyone who's still on the fence about gathering, Dr. Fauci hopes you just stay home and enjoy the game with your household.
"You don't want parties with people that you haven't had much contact with," he said. "You just don't know if they're infected, so as difficult as that is, at least this time around, just lay low and cool it."