Dr. Fauci Isn't Celebrating Thanksgiving With Family--Here's His Advice for You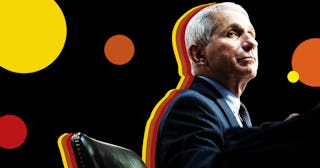 Julia Meslener for Scary Mommy and Al Drago/Getty
As October draws to a close, I'm getting increasingly anxious about the holidays. I'm a Christmas fanatic, and I have beautiful childhood Thanksgiving memories with extended family. I've already started my holiday gift shopping. However, my merry-and-bright bubble is getting popped by COVID-19 and maybe yours is, too.
Dr. Fauci recently shared that he is not going to be having Thanksgiving dinner with his three grown daughters this November. His bold and heartbreaking move resonates with me. Do we need to choose between seeing our families and risking the spread of the virus, especially to our medically-vulnerable or aging loved ones, or skipping Thanksgiving altogether? Say it ain't so. (It's so.)
Dr. Anthony Fauci recently contributed to a webinar hosted by The Kennedy Political Union. He started by sharing that he was hoping this summer we would have seen the number of infections steady, but we didn't manage to do that. "We're now stuck at about 40,000 cases a day," he reported, referring to what he calls an "uptick" of cases.
As we head into the fall and winter season, this means taking our precautionary measures more seriously, not less. We can't let being "sick of the virus" actually get us sick with the virus. "As a nation, we need to double down with the fundamental public health practices that we know work," he shared. What are these measures? He reminded us to socially distance, wear masks, do social activities outdoors as much as possible, and wash our hands.
Given the number of daily cases and the American death toll, which is currently over 214,000 according to the CDC, we need to carefully consider what we are going to do this holiday season. Dr. Fauci shared his personal decision. He's decided that he will not be celebrating Thanksgiving with her three adult daughters in person.
He shared that we currently know more about how the virus is transmitted. It's "efficiently" transmitted from person to person. He also shared that 40-50% of those who have the virus are asymptomatic, and often a person with no symptoms can transmit the virus. Not just from sneezes or coughs, either, but from simply speaking and especially when singing. In closed, indoor spaces, the infection risk is higher due to aerosols, and the six feet apart rule isn't enough. He concluded that this virus is "highly transmissible."
Dr. Fauci explained that 80% of those who are infected have mild to moderate disease, including a scratchy throat, body aches, loss of taste and smell. The rest are considered severe disease. Long-term effects of the disease, which can occur in those who have had mild, moderate, or severe illness, can cause weeks or even months of a "constellation of symptoms" including shortness of breath (without phenomena), cough, fatigue, muscle aches, fever, body temperature irregularities, and foggy brain. If you're thinking this sounds terrible, you'd be spot on.
What do we do about the holidays? Dr. Fauci begins by telling each person to take the holiday get togethers as "an individual case." He said it depends on "where you are" and "where you are traveling." (His co-host noted that it also depends on how you are traveling.) He offered his own family's situation as an example. His daughters, who live in three different areas of the country, all of which have a high number of cases, recognize that their dad is a "vigorous guy" but they also noted that he is seventy-nine-years-old. Though they would love to see their parents, they said they'll be "sending their love via Zoom."
He noted that this was his family's choice, and he's not criticizing someone for making a different decision. Ultimately, we each have to examine our own situations and make the best choice we can. Consider if there are elderly family members and those with underlying medical conditions. He suggested quarantining for "a number of days" after travel or waiting for multiple negative virus tests, but he also recognizes that this is inconvenient and can turn a three-to-four day holiday into one that lasts for weeks.
I admit that I'm still uneasy about the upcoming holidays, even after listening to Dr. Fauci's sound advice. Not only does COVID-19 concern me, but influenza and other viruses that lurk and linger over the fall and winter months. How can my family safely celebrate without risking infecting any of our parents, all of whom are in their sixties and seventies, or myself, a type 1 diabetic? Is it possible, or are we destined to have a "all is calm, all is bright" Christmas celebration, each of our families in our own homes? Do we forgo bigger family gatherings, traveling, buffet-style meals, and passing around wrapped gifts for wearing pjs, watching Elf, and sipping cocoa?
Like many families, it's impossible that the six of us, plus all our extended family members, stay at home for fourteen days each and make sure we don't have COVID-19 before getting together. Most of the adults work, and most of the children are in school, in-person. There's also the errands we run and appointments we attend. Despite taking all the precautions, we still know the risks of being asymptomatic, as Dr. Fauci explained, and the risks of transmission.
Whatever you decide, let's just remember that science is real and the pandemic is serious. No temporary pleasure is worth getting sick or risking someone else's health and life. At least the holidays aren't a once-in-a-lifetime event.
This article was originally published on