Dr. Fauci Says April Will Likely Be 'Open Season' For Vaccine Availability
by Cassandra Stone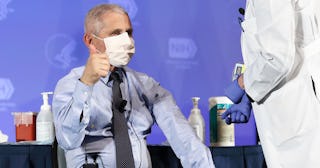 Chia-Chi Charlie Chang/Anadolu Agency/Getty
Dr. Fauci says supply won't be the issue in getting people vaccinated quickly, it's logistics
Dr. Fauci, chief medical advisor to President Joe Biden, predicts that anyone who isn't in a prioritized group of people can get the vaccine beginning in April. In an interview with the TODAY show this morning, he told Savannah Guthrie that April will most likely be "open season" in relation to the COVID vaccine.
With Pfizer and Moderna vaccine supply increasing and the possibility of a third vaccine getting FDA approval, Dr. Fauci believes this will increase the country's capacity to deliver vaccine doses.
"By the time we get to April, it will be open season," he said on TODAY. "Namely virtually everybody and anybody in any category could start to get vaccinated."
He cautioned everyone to remain realistic, as it will take time to deliver injections to all the adult Americans who want one, but did confirm that supply would not be a hindrance to administering the vaccine — it's logistics. Beyond April, "it would likely just take several more months just logistically to get vaccine into people's arms," he said.
He's still optimistic that herd immunity could be achieved by late summer — a light at the end of a very long, very dark tunnel at last. And all the vaccines currently available appear to attack the COVID-19 variants as well, he confirmed.
A few weeks ago, Dr. Fauci recommended that Americans "double-mask" when going out of their homes for essential activities. Wearing a surgical mask with a cloth mask over it allows less room for gapping and aerosols to enter your respiratory cavities.
"This is a physical covering to prevent droplets and virus [from escaping or entering], so if you have a physical covering with one layer, you put another layer on, it just makes common sense that it likely would be more effective," he said last month.
This week, the Centers for Disease Control and Prevention confirmed Dr. Fauci's recommendation and made it part of their official COVID-19 guidance and protocol. Per their research, double-masking offers a 96.5 percent less chance that an infected person could sicken someone else.
Last week, Dr. Fauci went on record to say that he believes the pandemic situation overall will finally get better during the spring. "I can tell you that things are going to get better as we get from February into March, into April, because the number of vaccine doses that will be available will increase substantially," Fauci said on NBC's Meet the Press.
Since vaccine distribution began in the U.S. on Dec. 14, more than 39 million doses have been administered, around 9.1% of the total population. The U.S. is currently administering around 1.4 million shots a day, according to the CDC.
Once the U.S. reaches the "open season" phase, things could be radically better for the first time since early 2020. It's difficult to have hope after such a long, harrowing, deadly year — but Dr. Fauci's invaluable work and the determination of the Biden administration's federal response to the pandemic gives us reason enough to find it.