Doctor Interrupts Anti-Vax Movie: 'Your Presence Here Will Cause Babies To Die.'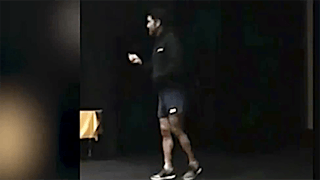 Dr. Lance O'Sullivan storms stage of anti-vax movie screening in New Zealand
You can't silence passion and purpose, which is a good thing if you're a doctor whose job is to save children's lives. One New Zealand doctor has all of those things and apparently some big cojones.
Dr. Lance O'Sullivan stormed the stage before a screening of "Vaxxed: From Cover-up to Catastrophe," an American documentary that tries to link vaccines to autism. The influential practitioner was there on a mission with one passionate purpose: shut it down.
He didn't waste time with pleasantries or popcorn. He went straight for the gut of the anti-vaccine agenda and told attendees that if they kept pushing the message of the film they would be responsible for the death of children. You can watch a clip of O'Sullivan hopping up on stage before the start of the movie on the NZ Herald's Facebook page.
"I've come here not to watch the film, but to continue my battle and my challenge for my people and, importantly, for our children," he says to the crowd.
He speaks slowly and deliberately, not holding back his intentions nor his brimming emotions.
"I come here with a lot of anger, because I am adamantly opposed to this. This idea of anti-immunization has killed children around the world, and actually will continue to kill children whose parents are put off immunization because of misinformation – misinformation based on lies, quite frankly.
"Fraudulent people for their own reasons have decided that they would put forward false information that actually causes harm to children," he says.
Then the doctor gets straight to the heart of the matter with a very stern warning.
"Your presence here will cause babies to die."
According to the Huffington Post, O'Sullivan was invited to the event, but clearly he wasn't there to sit idly and watch. He was there to dispute and discredit the documentary (which has been widely criticized) and to deliver a stern warning.
"When I heard they were coming into town, there was no way I was going to let them come and peddle this misinformation and falsehood on my watch," O'Sullivan told John Campbell, host of the Radio New Zealand show "Checkpoint."
You may have heard about the film O'Sullivan was protesting called by its shorter nickname, "Vaxxed." It was directed by former doctor Andrew Wakefield who was labeled an "elaborate fraud" after an investigation found that he misrepresented or altered patient's medical histories used in his 1998 study. The so-called "study" suggested a vaccine was linked to autism, according to CNN.
The paper has since been discredited and the United Kingdom stripped Wakefield of his medical license in May 2010. The documentary has caused tremendous outrage since its release in 2016. It was supposed to be shown at the Tribeca Film Festival, but after incredible backlash it was pulled, according to The New York Times.
The film claims that there is a connection between the MMR vaccine (which stands for measles, mumps, and rubella) and autism. Over and over again, scientific evidence has shown the vaccine to be safe, effective, and having no connection to autism, according to the Center for Disease Control and Prevention (CDC).
O'Sullivan's motives are admirable because not only is he trying to defend medical and scientific integrity, he's trying to save lives. In 2014, he was named New Zealander of the Year, a prestigious award in the country, for making healthcare more accessible for children and underprivileged communities in the country. Basically he's a medical messiah.
Kids need advocates in the medical community who are going to make noise and stand up for them. We all need scientific allies who rely on facts, and not fake studies and dangerous conspiracy theories.
"We know that there is significant benefit gained from immunizing our children," O'Sullivan told reporters on Wednesday. "My greatest concern is that the most vulnerable in our community, our Māori children, will be affected by this propaganda which is just lies."