'Drag Me Down The Aisle' Is The New Drag Queen Wedding Show You Need To See
by Thea Glassman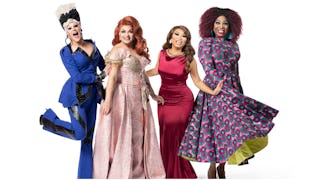 Image via TLC
Drag Me Down The Aisle is all about drag queens helping a bride feel comfortable in her skin
Okay, you're going to have to clear your schedule for March 9th because there's a new TLC show about drag queens and weddings that you really, really need to see. Drag Me Down The Aisle features four drag queens helping one nervous bride plan her big day. They help boost her self-confidence and plan her dream wedding – so you better believe you will be sobbing so many happy tears by the end.
Meet BeBe Zahara Benet, Thorgy Thor, Jujubee, and Alexis Michelle. They're the ladies who are going to help Emily, a bride from Amish Country, plan her big day. And they're definitely well-equipped to handle the job – all of them are former contestants from RuPaul's Drag Race, each with a particular set of skills.
Benet is a professional event planner. Thor is a professional musician. Jujubee is a professional makeup artist. And Michelle has already helped hundreds of brides get their glam on.
Emily can use all of the love and support she can get from this foursome. According to TLC's press release: "she is newly engaged, head-over-heels in love with her fiancé and excited to get married; but deeply rooted body image issues have her second guessing her 'dream' dress, and an extremely tight budget has not allowed her the fairytale wedding she had hoped for." Important note – they only have three weeks to get the job done.
"TLC is the home of weddings and we are always looking for new ways to expand in the space that will appeal to a broader audience, beyond the bride-to-be," Howard Lee, President and General Manager for TLC, said. "Drag Me Down The Aisle hits the mark. The show is outrageous, loud and full of surprises, all while offering viewers an inspirational journey that ends in a heartwarming transformation."
Emily's helpers are going to assist with everything from "the dress to the venue to the inner glow a bride always strives for." Also, Emily really likes wearing flannel, jeans, and no make-up, so I'm going to go ahead and guess that she's going to be given a big time makeover in time for her special day.
RuPaul would be proud.
Here's a little introduction to our four new friends, who are all dressed up, dancing, blowing kisses, and out diva-ing one another. I am already very much obsessed.
There's Bebe…
..and Alexis.
Thorgy…
…and Jujubee.
https://www.instagram.com/p/BpaWBPTF6XO/
The month of March just officially became a whole lot more fabulous. Counting down the days in 3…2…1…