Drag Queen Sings 'Baby Shark' At Toddler's Request And Nails It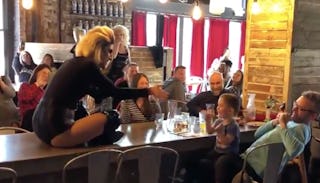 Image via Twitter/Marti Gould Cummings
This two-year-old is clearly living his best life
If you hear the words "Baby Shark" and wish the song and everyone involved in the making, distributing, and airing of the song would accidentally be engulfed by a giant sinkhole (they would not be hurt, they just would just be damned to live there for eternity), we promise you this next version will restore your faith in humanity.
Drag performer Marti Gould Cummings was hosting a drag brunch at Talde, a New Jersey restaurant, over the weekend and decided it was time to play drag roulette, a game where they ask the audience to choose songs. They posted the video to social media, saying, "When a 2 year old comes to brunch you perform baby shark for them!!!"
"I asked the little boy what he wanted to see performed, because he had been paying attention when I got to their table, and he asked for 'Baby Shark,'" Cummings told NBC News. "The DJ quickly found the song online, and we added it to the playlist for him." The results were captured on someone's phone and it quickly became the best experience we've watched in forever.
Cummings, a Maryland native who, according to HuffPost UK, prefers the pronouns "they/them" has been a fixture on the New York drag scene for over ten years and recently became involved with drag brunch at Talde. Based on the video above, this brunch is packed and everyone is having the time of their lives, no one more so than this little boy.
You can see him clapping along, mesmerized by Cummings' performance and he seemed to think they were there just for him. Twitter was very much here for this completely delightful moment of internet sweetness.
https://twitter.com/jetpack/status/1107163210476474373
https://twitter.com/jetpack/status/1107718548409860096
Of course, there will always be haters who just can't stand anyone being happy or choosing a life they, themselves, didn't choose.
"A place that is welcoming to everyone. Where joy is spread and hate isn't allowed through the doors," Cummings clapped back. "Anyone who thinks drag isn't for children is wrong," Cummings later said. "Drag is expression, and children are such judgment-free beings; they don't really care what you're wearing, just what you're performing."
Cummings isn't wrong. The uber-popular Drag Queen Story Hour is popping up in schools, libraries, and bookstores all over the country for kids to enjoy and it is pure happiness. "DQSH captures the imagination and play of the gender fluidity of childhood and gives kids glamorous, positive, and unabashedly queer role models," they say on their website. "In spaces like this, kids are able to see people who defy rigid gender restrictions and imagine a world where people can present as they wish, where dress up is real."
The response to Cummings' video has been overwhelmingly positive and they said that "feels incredible." Plus, this rendition of "Baby Shark" has saved us all from the monotony of what may go down in history as the hardest tune to ever (EVER) get out of our heads.
Of the critics, Cummings is quick to dismiss them as the underwhelming and close-minded folks they are. "It would be nice if us adults could let the child inside of us out for a little bit, so maybe we could all be a little more accepting of others ourselves," they added.
Damn right.
This article was originally published on