Yes, That Was Drake In State Farm's Hilarious Super Bowl Commercial
by Valerie Williams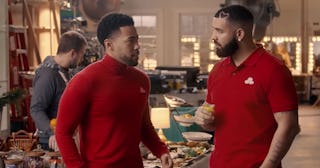 State Farm Insurance/Youtube
Drake and Paul Rudd both made an appearance in State Farm's Super Bowl commercial
Last night was the Super Bowl and as usual, much of the buzz both during and after the game involved the Half Time Show and the commercials, which are always a buzz-worthy topic. Amazon gave us ample warning (and a nice, early preview) for Michael B. Jordan's sexy and hilarious stint in their Super Bowl "Alexa" commercial, but State Farm caught us a bit off-guard with their bit involving rapper Drake and actor Paul Rudd. The thirst was very real.
Drake was all khaki-ed out as a "stand in" for the brand's usual "Jake from State Farm," but it seemed he was struggling to understand his limited — and non-vocal — role in the spot.
The rapper keeps trying to repeat the line alone with the actual Jake and is told that stand-ins don't talk, so instead, he stands there absolutely rocking his red State Farm polo and little buzzed-in hair heart while crunching on an apple. The panel watching them film the commercial includes Green Bay Packer Aaron Rodgers and Kansas City Chiefs quarterback Patrick Mahomes. Rodgers' stand-in is a derpy dude who looks nothing like him, but Mahomes' is Paul Rudd, so, um, Mahomes kind of has Rodgers beat when it comes to that particular beef.
Of course the internet was very here for Drake's performance and the entire hilarious bit.
https://twitter.com/jetpack/status/1358571757754540033
Unfortunately for Mahomes, Kansas City ended up losing last night's game to Tom Brady's Tampa Bay Buccaneers, but at least he'll always have this extremely memorable spot. Never has an insurance commercial made us feel so tingly, job well-done, State Farm.