Please Allow This Nursing Home Rap Dance Battle To Make Your Entire Day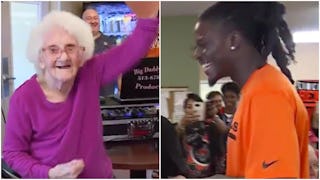 Image via WLWT/Twitter
Dre Kirkpatrick had a dance battle with a 95-year-old and she was the clear winner
On Thursday, Bengals cornerback Dre Kirkpatrick decided to throw a tailgate party at Loveland Health Care Nursing & Rehab Center. He brought along a DJ, games, and some treats for a fun, low-key day. What he didn't count on was an epic dance battle between himself and 95-year-old resident Irma Shafer. Prepare for the best video you'll see today.
The action all started to go down when the DJ threw on a mashup of Dr. Dre's "The Next Episode" and Warren G's "Regulate." Shafer and Kirkpatrick began dancing together but all eyes went immediately to Shafer, who was getting down. At one point the football player attempted a high five, but she was too busy doing her thing to notice.
Shafer wasn't alone. Her fellow nursing home residents got their grove on too and appreciatively clapped along as their friend tore up the dance floor.
The internet collectively fell in love with Shafer and informed Kirkpatrick that he had, unfortunately, lost the dance battle by a landslide.
https://twitter.com/jetpack/status/1040370589091987459
Thankfully, like any good athlete, Kirkpatrick took his defeat with dignity and respect.
It might seem a little unusual that a football player would choose to tailgate before the big game at a nursing home, but that's just the kind of guy that Kirkpatrick is. This past July, the cornerback treated a group of elementary and middle school students from his hometown of Gadsden, Alabama to a sneaker shopping trip. He also gifted each of the kids with $200 worth of free clothes.
"At the end of the day, this is where I'm from. This city means so much to me; it taught me everything I know,"Kirkpatrick told The Gadsen Times. "And some of these kids just need a positive role model, somebody to reach out and touch, even if it's just for a couple of hours. That couple of hours could change that kid's life, or the direction of how they think."
All the applause to Kirkpatrick for being such a legend off the field. Hopefully he learned a thing or two about shaking his hips from Shafer while he was at it.