This Organization Helps Fulfill Wishes For Kids Who Age Out Of Foster Care
by Elizabeth Broadbent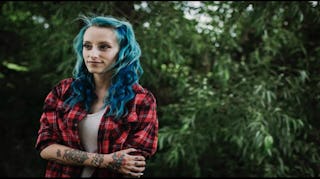 Sarah Janeczko Photography
Sarah was just 12 years old when her mother died of an overdose. According to the Denver Post, with a father losing himself in grief and mental illness, a few months later social services showed up at her door. By that time, she had already started her career as a self-proclaimed "wild child," stealing the car keys and hanging out with friends more than going to school. Thus began her career in foster care.
Sarah had "a six-year stretch of six homes and multiple stints in juvenile lockup," the Post says. She lived on the streets, and lived with a boyfriend she was just using for a place to crash. She was homeless. In 2015, she signed the papers that emancipated her from the state. That meant she was out of foster care, out of the state's responsibility, and out on her own. No safety net. No safe place to fall, no matter how restrictive.
When she was finally emancipated, she told the Denver Post, "I cried, I was so happy. I felt like a feather flying away."
But life was difficult. Aging out meant couch-hopping, using men for places to stay. Staying at hotels when she had the money. But eventually, she met her boyfriend, Anthony. They have a house, three roommates. An air hockey table. A backyard where they can grill out with friends. But still, she was lacking the place to land that other people — people who haven't been through foster care — take for granted, she tells the Denver Post.
That's where Dream Makers stepped in. According to Lori Bruegman, BSW, National Project Director for the organization, the program — which falls under the organization Kids Belong — was started to fill the dreams of youth aging out of foster care.
As Bruegman puts it, dreams "are supposed to focus on something educational, career-focused or even a productive hobby, such as art classes or learning to play an instrument. Things that our own children were able to do, but not these teens … We know not all the dreams are life-changing, but we want these youth to know that there are people in the community that do care about them and want to see them succeed even though there is so much stacked against them."
Since the program started, they've filled more than 340 dreams, including things like a bus pass for a year, internet for a year, clothes and uniforms for work, educational trips, college books, dental needs, help with apartment deposits, car down payments, drivers ed classes, art and music lessons, gym memberships, small business start ups, cameras, pets, bikes and so on.
"Our biggest request is for laptops," Bruegman told Scary Mommy. "For the youth going onto college or even trying to get their GED they have to have a laptop."
Sometimes they are actually life-changing. Bruegman says that one of her favorite dreams was for a young girl, age 21, who was going blind and needed $30,000 worth of dental work. "Medicaid would not cover this and her only other option was to have her teeth pulled and get dentures," Bruegman says. "We found a local dentist who heard about the need through social media and donated all of the work for FREE!!"
The organization does surprise car giveaways. One girl spent 4 hours a day on the bus, just to get to her part-time job. She was determined to finish high school, but the time commuting to her part-time job was wasting so much time. When a local dealership donated a car for her, "she broke down bawling."
Sarah asked for a camera — and got it. She says that when she was a kid, she used to use her mom's old camera to take pictures. Her mom always told her, "If you ever want to see what someone loves, look at the pictures they take." She hopes to use the camera to start a business doing weddings and photoshoots.
When she got the camera, she says she nearly cried: "I've never really had the nicest things but the camera they got me is beyond amazing." The people who donated to her, she says, should know they are appreciated.
"They're making lives for foster kids a lot better because we don't have the support of most," says Sarah. "Most parents are able to buy their kids cars and clothes and things they need. Some are less fortunate. I would be one of those people so every little thing that comes my way, does make an impact on my life and does make me see that there's kind hearted people who will pay it forward. As they do for me I will for them."
A leg up. Help. But most of all, a sign that they are not alone, that somewhere, people care, people are rooting for them. People want them to succeed. That's what these gifts give these children and young people who receive their dreams from Dream Makers. They're a lifeline when no one else is there.
If you'd like to donate to Dream Makers and help emancipated youth, go to www.dreammakersproject.org. There, you can fund a dream yourself or help crowdsource a dream together with others. The kids will appreciate it more than you will ever know.