Drew Barrymore Doesn't Know What To Do With Her Kid-Free Time, Either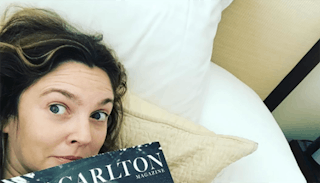 Image via Instagram
Drew Barrymore posts a very relatable Instagram photo
It happens to the best of us: you're dying for a moment alone when you're flanked with kids, and when you finally get it, you don't know what the hell to do with yourself.
When you're a parent, alone time can become so rare that when it comes — it almost feels like you're doing something wrong. Drew Barrymore posted a photo on Instagram this week that any of us who've had alone time only to realize we have no idea how to take advantage of it can relate to.
"Do you ever have that moment as a parent, where you have a few minutes to lay in bed and read a magazine at a hotel, and your like "how am I not chasing the kids around," she asks. "How am I stealing a few minutes to myself? When is this going to end? And why do I feel like I am breaking the law?"
There have been times that I've literally been counting down the minutes until my children go to bed, then mere moments later, when I finally have some sweet peace, have found myself browsing through photos of them on my phone. Send help.
Drew Barrymore is a mom to two daughters: four-year-old Olive and two-year-old Frankie. She's always relatable and transparent, from the time she admitted to growing a goatee during her pregnancy, to posing with her daughter in full-on tantrum mode at Disney.
Barrymore and her ex-husband Will Kopelman are also a pretty great example of co-parenting done right. "Honestly, I don't know how it is for other couples but really I like watching him be a father," Barrymore told People in an interview several months before the split. You can tell that still stands in her frequent posts on Instagram, that still include him in one way or another.
https://www.instagram.com/p/BSGxZaxhRJb/?taken-by=drewbarrymore
She's the mom BFF we all want. At least to remind us to enjoy the alone time every once in a while.