Drew Barrymore's Words About Mom Guilt Are Relatable AF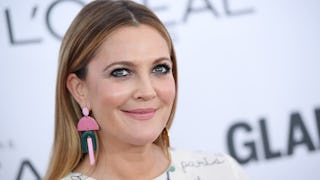 Imagevia Getty Images/Photo by Dimitrios Kambouris
Barrymore says working moms can turn their guilt into a positive for their kids
Look no further than a mom if you want a raw, unadulterated version of guilt on steroids. We're set up to fail because of one primary assumption made of us — that we must participate constantly in our children's lives. That's an expectation. But many moms have other passions or work that takes us away from our kids, and that's not a bad thing.
Drew Barrymore is one such mom — an actress, author, producer, director, she definitely keeps busy with non-kid pursuits. She's also mother to two daughters, Olive, five, and Frankie, three, who she shares with ex-husband Will Kopelman. She often has to travel for work, something her daughters aren't big fans of. So she came up with a way to make it easier on them and also, changed the way she talks about work to make sure her girls know work isn't a bad thing. In fact it's "good and necessary."
https://www.instagram.com/p/BgXq7_1gPCX/
"Olive has a working mom. So, I came up with a couple of systems. One of which is 'THE CALENDAR,'" Barrymore wrote on her Instagram page. "I circle with sharpie every day I will be traveling. And I ask her to mark the day with an X once it's done. That way she can see that I am gone at first, still away in the middle, and then coming back towards the end."
She said this is how her kids get a sense of time and when she will be home. But what's more, Barrymore said she's recently changed how she talks about her work so her kids know it's something she loves, not something she has to do. "I don't say 'I have to go work' with a grimace on my face, because I fear it will make her feel negative about something a lot of moms must do to provide," she explained.
She says a friend helped her rethink the way she spoke about her work because, like many working moms, we "tend to do that to try to make our kids feel better and that work is the yucky thing taking us away." Barrymore said of course she feels guilty being away but she wants to empower them to think of working as a positive. "I don't blame work, i own the responsibility," she wrote.
The mom of two also said parents need to get back to doing the small things to connect us no matter where we are. She sends postcards to Olive every day she's at camp, so she can have written letters from her mom. "We have to find ways that are authentic and true to who we are. And if you ever want to correspond with Olive, don't face time with her. I learned that the hard way."
This article was originally published on