Why I Worry About Drinking And Driving, And You Should Too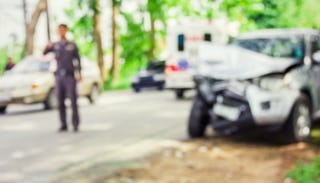 GUNDAM_Ai / Shutterstock
Oh, but she was excited that September morning—an outing with her father, just the two of them. Her brothers and sisters not up yet, she and I enjoyed the sunny, sunny sun from the front porch, waiting for her dad to arrive. He was taking her to help a friend move, and she liked this friend of his. Her name was Amy, and she had a couple kids of her own. They'd recently had a nice birthday party for the one, and she'd had fun.
My 8-year-old was ready to go, her blue eyes standing out above her gorgeous summer tan leftovers. Why is it kids tan so well?! My older teens often lament upon the loss of that ability as they look at summery pictures past. I do as well.
It had been a rocky start to the school year. A historic flood in our little Upstate New York city, and the first day had even been cut short. We reminisce about that day last week, buses getting stuck, children wading through rivers of water to make it to their curbs, and then home.
It was exciting for us, up safe from the rising rivers, but the area was in an uproar. School had been cancelled all that first week, and the kids were bored. So she was happy to be able to get out and about. He pulled up in the front where we were waiting—a honk and a wave, and she's off after a quick kiss and hug for me. She had climbed into the car quickly, grateful no one else had gotten up and demanded to go. She wanted Daddy to herself that morning.
It was no wonder. Things had been tough the past three years after he'd had to leave. I'd felt sorry for my decision to throw him out, but not regretful. Unable to let go of his best friend long enough to be a dad or husband, he and his beer had left me no choice. His four daughters were left to make the most of short trips to the pool and the Dollar Tree, and it was fortunate that he lived only a few blocks down my hill.
I was grateful too, that morning. Morning meant he hadn't had time for beer yet, and maybe this would be a good time for them. It certainly was safer. The child services worker that I'd asked had advised me to not allow them to go with him if I smelled alcohol, but that I couldn't just keep them from going.
But I breathed a bit easier that morning, my youngest was happy and had told me she was praying for a good day—that it was going to be a perfect day. Making the most of the still morning, the rest of the kids asleep, I walked into the kitchen to tackle some never-ending dishes and made good progress before being stopped by the phone about 45 minutes after they had left.
There was shock and fear when I heard the woman on the end of the line identify herself and explain the reason for the call. She was a first responder, and she was with my little girl. There had been an accident. Missing a curve, her father had run off the road and into a ditch. She was OK, but I needed to get there as soon as possible; he was being charged with DWI and had blown a 0.12 on the breathalyzer test—almost double the legal limit.
I got the location and told her I'd be there, she would wait with my daughter for me to arrive. It was a long drive, I remember, that 5 miles to something I didn't know. Every rotation of the wheels building and winding my anger tight.
Shaking the whole way, I wondered what I would say. What could I even say?
I turned left onto a road I hadn't been on before, wondering how I would find them. Wondering needlessly, I realized, once I saw the string of lights from patrol cars and the first responder's vehicle. If I tried to accurately describe the feeling in my chest at this sight, I would fail. There are no words.
I had no words for my soon-to-be ex, either, standing head down and leaning against a patrol car, and only simple, shaking words for the policeman who filled me in that they were arresting him under Leandra's Law and asked what I wanted done with the car because it had to be towed.
Do whatever you want with it, I thought. How could he be drunk? How could he be so stupid? I explained we were pending divorce and hadn't lived together in over three years. "It's 11 o'clock in the morning on a Sunday. This is his visitation. Where is my daughter?"
The officer muttered a simple "I know, Ma'am. She's in that truck there. Take her home," and he pointed up the road.
I reached the truck and the lady who had called. She said my daughter wasn't hurt, just scared and confused, and that I could take her home, and good luck to me. My daughter started crying again as soon as she saw me, and I took her hand to walk back to the car.
We sat for a moment as I apologized before leaving: "No, I didn't know what was going to happen to Daddy." "Yes, he's in trouble." "No, it's not your fault!" "It doesn't matter that you were talking too much as he was driving—you didn't cause the accident, sweetie… You didn't."
It was a drive home that I don't remember anything about, except for the heartbroken child crying in my backseat—and images of a crumpled car in a ditch, inches from a huge tree.
Our home was in chaos when we entered—everyone crying, some very angry. There were questions that I couldn't answer. I'd had no experience with this. I assumed he'd be in jail for a while. My daughter was still convinced this was her fault, and we all worked hard to prove otherwise, but how much can an 8-year-old really understand?
And her dad? He was driven home by the police later that afternoon, quickly hired an expensive attorney, and pleaded guilty in return for a 30-day jail sentence, served over a month of weekends spent picking up trash alongside roadways. Then there were three years' probation, now over, and three more years of an interlock system should he get a car again—oh, and an alcohol evaluation that was never done.
In about one and a half more years, that interlock safety restriction will be lifted. He is waiting to get his license and a car until then (those interlock systems are expensive).
He still drinks.
For my children's protection, I have a piece of paper from the court, ordering that he not be allowed to drive anyone under the age of 18. It makes me wonder, though, after this last year is up, what's going to protect your children? And what is protecting us all from the thousands of impaired motorists on the road every day?
Alcohol was a major problem in my family and impacted my kids every day. I, myself, had only given it up two months prior to this accident. And to this day, I remind myself that our daughter could easily have been killed that morning. I don't know if my ex was drunk from his alcohol consumption the previous night or had been drinking that very morning. But please, if you find yourself in this situation, sleep it off or, better yet, call a freaking cab or stay home! We were lucky. That tree was less than a foot away from where my daughter was sitting. Every damn year, so many thousands of families are not that lucky when drinking and driving is involved.
Next time, it could be someone you love. We are coming into the warm weather and celebrations—July 4th and Labor Day are knocking at our doors. Let's make sure it's only the happy summer days knocking, and not someone with some very, very bad news.
Almost five years later, I'm ready to share my horror tale.
The moral of this story? There isn't one, unless we learn something from it. And stop drinking and driving.
Until then, this is a story with no morals.
Be safe out there.
To learn more about how to protect your family and others from drunk driving, visit www.madd.org.
This article was originally published on