After Her Son Died From Wearing A Swim Mask, This Mom Is Spreading The Word On The Risks
by Wendy Wisner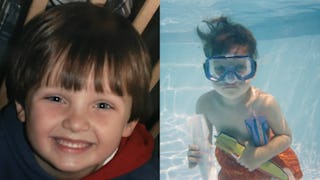 Images via Deborah Tomlinson
It was 6.5-year-old Christopher's last day of kindergarten and his family was celebrating by swimming in their backyard pool. Christopher had learned to swim when he was four. Like many young kids, Christopher was scared to put his face in the water and preferred to wear a swim mask when he swam.
Christopher's mom, Deborah Tomlinson, tells Scary Mommy that there were two adults supervising Christopher poolside, but neither adult was aware when Christopher's swim mask had filled with water, preventing him from breathing, and drowning him within minutes. She suspects that he panicked and couldn't figure out how to remove the mask in time (remember, drowning can happen within 20-60 seconds).
"As Christopher was afraid to put his face in the water, the mask allowed us to deal with this issue," Tomlinson shares. "This was very flawed thinking and swim instructors need to know this as well parents. It is unreasonable to think a young child is capable of clearing a mask so needs to be comfortable removing it underwater in the event that it floods."
The details of Christopher's death took Tomlinson many years to share publicly, but now she is on a mission to warn other parents that swim masks can be dangerous if not used properly – and that most parents are unaware of this risk. I sure had no idea about this before I interviewed Tomlinson.
"Christopher died 15 years ago on June 23, 2003," Tomlinson tells Scary Mommy. "It wasn't until years later and my willingness to expound upon the details that I realized that nobody talks about mask safety. I find comfort (or perhaps it is an excuse) that things happen and unfold when they are supposed to unfold."
It is hard to imagine the pain and anguish that Tomlinson has lived with all these years, but the work that she is doing to raise awareness about this issue really could save a life. Tomlinson recently contacted the National Drowning Prevention Alliance and partnered with them to make a video about the risk of drowning while wearing a swim mask. The video will be presented at the National Drowning Prevention Alliance Convention in New Orleans on April 17th.
It's a must watch for parents, swim instructors, and anyone who cares for young children:
As Dr. John Fletemeyer, chairman of the International Drowning Prevention Alliance, explains in the video, there are some basic principals all parents should follow to prevent drowning, and a few specific ones relating to swim masks:
1. Make sure your kid gets swim lessons from a program like the YMCA, American Red Cross, or via a private learn-to-swim program.
2. Be sure your child is comfortable underwater BEFORE they use a swim mask. The swim mask should not to be used to get your child more comfortable in the water; they need to be comfortable on their own first.
3. Besides swim masks, never rely on floatation devices to keep your child safe in water.
4. Always practice "touch supervision." Poolside supervision is not enough. Practice touch supervision even after your child has learned how to swim.
5. Learn to recognize the signs of drowning (found here) and learn CPR.
6. Do not let your child dive head first into water while wearing a mask or goggles.
In addition to the general advice of making sure to get your kids professional swim lessons, you should consider starting swim lessons as early as possible . The Academy of American Pediatrics recently released a statement recommending that kids begin lessons between 1 and 3 years old, as drowning is the single leading cause of injury-related death in that age bracket.
Honestly, after hearing Tomlinson's story, I will likely not be letting my kids use swim masks any longer. However, there is a place for them, and some kids find them helpful. But they must be fitted properly, and you and your child must know how to use them safely.
In the National Drowning Prevention Alliance video, Carmen Montalvo, a master diving instructor from Underseas Sports explains the ins and out of swim mask safety. Here are her tips:
– Make sure you buy a mask made of silicone. Inferior, cheaper masks are often made of PVC, which can deform, allowing water to leak into them.
– A well fitting mask should pass the "flower sniff" test. You should be able to inhale or sniff in without air coming through. This indicates a good seal and that no water will be able to get through.
– You should make sure that the mask isn't too loose or too tight, and that if you move your head around, the mask does not slip or change position.
As Tomlinson says, "Masks are anything but toys. Masks aren't inherently dangerous but are on the faces of young children not prepared to deal with a flooded mask and not comfortable swimming underwater without anything covering their eyes and nose."
This summer, sweet Christopher would have been 22 years old. Tomlinson's goal is not only to prevent another tragedy like hers from happening, but also to honor the life of her darling boy. Her work is truly a testament to the courage and strength of mothers.
There is no way to bring little Christopher back into her arms, but let's hope Tomlinson finds a bit of comfort in knowing that she is raising awareness about this vital issue, and that her work might just save a life.
This article was originally published on