The Palace Releases The CUTEST New Photos Of George, Charlotte, And Louis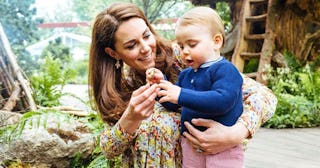 Kensington Palace via Instagram
Duchess Kate is letting us get a rare glimpse of her adorable babies at the opening of her new garden
Over the weekend, Duchess Kate unveiled a new project she's been working on: a public garden that's designed to encourage kids to spend more time outside. And since this garden is especially for kids, she brought hers to the opening.
Kate and her husband, Prince William, are notoriously private with their family life, trying their hardest to allow their kids to have as normal an upbringing as possible, even though their family is basically as famous as a family can get. So it's not every day (or even every month) that we get to see photos of the adorable babies these two have made. Since Kate brought the kids to the event, there were a bunch of news photographers on hand to snap some truly adorable photos, and then Will and Kate were kind enough to post them to their family Instagram account so we can feast our eyes on some royal baby cuteness. Bless up, Duchess Kate.
Look at them and also, hear their sweet British baby voices. We cannot even.
Like, just try not to squeal when you see this photo of Prince Louis, who is somehow already walking, even though it feels like he was born yesterday. Time really flies when you're watching adorable babies grow up.
And this other shot of Louis showing his mom something he found on the ground. Ugh, he is such a tiny, adorable explorer.
Here's little Lou taking a ride on a swing with an assist from Dad. Our hearts are melting over here, NBD.
And Princess Charlotte taking a turn on the same swing, no help from parents required because she is practically a grownup, thank you very much.
This shot of Charlotte and her big brother, George, shows the two clearly have that special bond that only little girls can have with their big brothers, and our hearts are officially a completely liquid puddle on the floor, don't even worry about it.
And just in case you have a heart of absolute stone and you are not in a glass case of emotion right now, look at this adorable photo of the entire family playing outside together. That's it. That is the maximum amount of cuteness we can handle in a day.
All our rejoicing over photos of the royal babies aside, this garden project is seriously cool. Duchess Kate worked with landscape designers to create it, and it's all designed to help kids tap into their imaginations and just have an amazing time playing outside.
"I believe that spending time outdoors when we are young can play a role in laying the foundations for children to become happy, healthy adults," she said at the event.
If these photos are any indication, she's absolutely right — her kids clearly had a blast. We can't wait for other kids to have a chance to enjoy the garden, too.
This article was originally published on