Duchess Kate Talks With Other Moms About The Loneliness Of Motherhood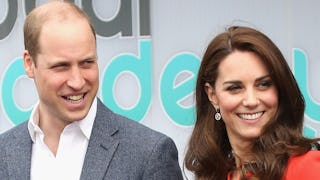 Image via Chris Jackson/Getty Images
The Duchess is shining a light on the mental health struggles moms encounter
The Duchess of Cambridge has made mental health one of her chief causes as a member of the Royal Family. During a recent appearance alongside husband Prince William and his brother, Duchess Kate spoke with a group of moms about motherhood and the emotional toll it can take.
During a recent visit to the Global Academy in London, Duchess Kate opened up about the challenges of motherhood with a group of fellow moms who also talked about their own parenting struggles. She told the women, "It is lonely at times and you do feel quite isolated, but actually so many other mothers are going through exactly what you are going through."
The group of moms founded an app called Mush that helps moms find friends and connect with one another. And Duchess Kate suggests it's those friendships that can provide a much-needed lifeline for a mom in need of support. "It is being brave enough, like you obviously were, to reach out to those around you."
This isn't the first time in recent weeks that the Royal Family has openly discussed mental health. Prince William, Duchess Kate and Prince Harry shared a video on The Royal Family Facebook page where the trio talked about the aftermath of the princes losing their mother, Diana, as young children. They're working with the Heads Together initiative to reduce the stigma surrounding mental health.
Duchess Kate also made a speech last month for the charity Best Beginnings where she shared some thoughts on motherhood and mental health. "Personally, becoming a mother has been such a rewarding and wonderful experience," she said. "However, at times it has also been a huge challenge, even for me who has support at home that most mothers do not."
In that speech, she discussed the various pressures of motherhood, including the pressure to be "perfect" at it. "It is right to talk about motherhood as a wonderful thing, but we also need to talk about its stresses and strains. It's OK not to find it easy, and asking for help should not be seen as a sign of weakness."
As she acknowledged, Duchess Kate has every advantage when it comes to resources and support for any mental health struggles she herself encounters, but using her reach and power to put a spotlight on this crucial issue for other women is admirable. So many moms don't speak out about their postpartum mental health struggles and their silence delays treatment. By speaking out, Duchess Kate is helping to normalize the conversation.
The royal mom put it best in her speech last month. "If any of us caught a fever during pregnancy, we would seek advice and support from a doctor. Getting help with our mental health is no different. Our children need us to look after ourselves and get the support we need."
We couldn't agree more.