Image Of All-Female Security Team Goes Viral Because It's Bad. Ass.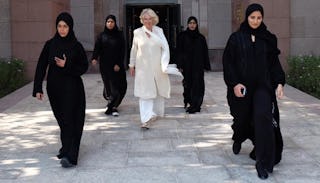 Image via Instagram
The Duchess of Cornwall had an all-female security detail for a recent trip to the Middle East.
In a powerful viral photo, an all-female protection team flank British royal the Duchess of Cornwall, formerly known as Camilla Parker-Bowles, during a trip to the United Arab Emirates. The visit was part of a Middle Eastern tour with husband Prince Charles, as they visited Dubai, Abu Dhabi and Al Ain.
All while being protected by a group of women dressed in the traditional hijab and abayas.
According to The Daily Mail, the protection squad was made up of all Emirati women. Lieutenant Shaima al Kaabi, the head of the team, 2nd Warrant Officer Basima al Kaabi, Corporal Hannan al Hatawi (behind the Duchess), First Corporal Nisreen al Hamawi and Salama al Remeithi, official protocol officer from the court of the Crown Prince.
The image was shared by Instagram account Clarence House, which is the official account for photos of the Duchess and Prince.
Behold. Totally bad-ass.
The five are members of the UAE's presidential guard, which includes a total of 50 women. The group protecting the Duchess are all between the ages of 29 and 30 and are highly skilled in martial arts training and combat techniques. Shaima, Nisreen and Hannan have even climbed Mount Everest. You know, just for fun.
And for anyone questioning how able this group is to guard someone while wearing their flowing hijab and abayas, (as some internet commenters are doing, because of course they are), each woman has unidentified weapons hiding in her ensemble, ready to protect the Duchess, even at close range.
Hello. My name is Valerie, and I jump a mile when a tube of biscuits explodes faster than expected. These women are amazing.
It was especially fitting that the Duchess have an all-female crew keeping her safe during this visit, as she and Prince Charles were in the region with the purpose of promoting women in leadership as well as religious tolerance. The group is pictured exiting the capital's Emirates Palace Hotel.
The Daily Mail quotes the Duchess as being "delighted" to have the five Emirati women protecting her on the trip, which is refreshing to hear for those of us with a new president who wants to make Muslims "register" once he officially takes office. Now is a time for world leaders, including our own, to be incredibly vocal about religious tolerance. Photos like this can help spread the message and quiet those who seek to foster fear and nonacceptance.
This article was originally published on