New Bill Would Give Paid Leave To Families Going Through Pregnancy Loss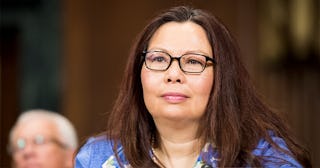 Bill Clark/Getty
The bill would give three paid days off after experiencing the loss
A new bill has been introduced to the Senate to give paid leave for people experiencing pregnancy loss.
Sen. Tammy Duckworth (D-Ill.) introduced the "Support Through Loss Act" bill with the goal of helping families have time to deal with the loss of a child without worrying about not having time off from work to heal. Rep. Ayanna Pressley (D-Mass.) is co-sponsoring the bill. Under the proposed legislation, workers would receive a minimum of three days of paid leave after experiencing a miscarriage, a failed in vitro fertilization, a failed adoption or surrogacy arrangement, or a medical diagnosis impacting fertility.
New Zealand broke new ground in this area earlier this year, unanimously passing a pro-family policy allowing for three days of paid bereavement leave for parents who experienced a miscarriage.
"Different families will deal with a pregnancy loss in their own ways, but they deserve the opportunity to deal with it. People deserve the time to deal with that," Duckworth told HuffPost. "Some people may need to grieve, others may need time to just regroup and formulate a plan to go at it again. But the key element here is time."
Duckworth was open about her struggles to get pregnant through the years, including a miscarriage. "I went through many, many failed IVF cycles where I had my hopes up and it would fail. Each and every one of those cycles was devastating to me and my husband, but me in particular," Duckworth said, sharing that she had a miscarriage while running for senator. "It was pretty devastating to have to go through that [miscarriage] process and not have the time to deal with it."
In the United States today, there is no mandatory paid bereavement leave. Parents who lose a child can use FMLA leave but this is unpaid time off work, leaving many families unable to use it. There is also no requirement for paid leave after a baby is born or adopted, unless it's unpaid and qualifies under FMLA, which gives parents up to 12 weeks of unpaid leave after birth. Even then, there are guidelines such as how long you've worked for a company, how many employees the company has, and the ability for a working parent to afford 12 weeks of unpaid leave.
According to the American College of Obstetricians and Gynecologists, it's estimated that as many as "26% of all pregnancies end in miscarriage and up to 10% of clinically recognized pregnancies," which doesn't account for the other losses this bill would support.
If passed, the Support Through Loss Act would also allocate $45 million annually to the National Institutes of Health to support research programs around pregnancy loss.