Metal Ductwork Crashed Into The Pool At An Indoor Waterpark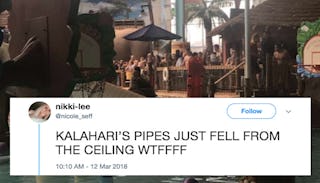 Image via Twitter/nikki-lee
Metal ductwork fell on Kalahari waterpark visitors
A large section of metal ductwork fell from the ceiling and into the pool at Kalahari Waterpark in Sandusky, Ohio on Monday. Two people were taken to a local hospital with minor injuries. At least three other people were injured.
According to WKYC, Erie County Sheriff Paul Sigsworth says several sections of ductwork landed in the kiddie and wave pools. The ducts were about three feet in diameter, Sigsworth explained. People who were at the waterpark quickly started to tweet out images of the portion of the ceiling that fell. At first glance, the ductwork looks like a pool slide. It must have been terrifying to see a large piece of metal come crashing toward you. We can't imagine how the parents there felt when the ductwork started to fall.
Kalahari's public relations firm, Jacobson Rost, released the following statement:
"We are aware of the situation and take the safety and security of our guests very seriously. We are working closely with our internal teams and the proper authorities to gather details on what happened and will share an updated statement when we have confirmed all the facts."
https://twitter.com/jetpack/status/973280000857264128
Kalahari Resort & Conventions have hotels, indoor waterparks, restaurants, spas and convention centers all in one area. They have locations in Pennsylvania, Ohio, Wisconsin, and are opening one in Texas. The Ohio location – where the ductwork fell – has a 77,000-square-foot outdoor waterpark and 890 hotel rooms and suites. Following the accident, though, it appeared many families were checking out of the resort. The waterpark will be closed until further notice.