Singer Duffy Explains Absence From Spotlight: 'I Was Raped And Drugged And Held Captive'
by Madison Vanderberg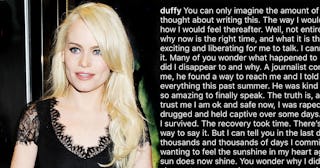 Dave M. Benett/Getty and Duffy/Instagram
Duffy returns from a long absence from the music biz with heartbreaking post about experiencing and recovering from trauma
Duffy, the Welsh singer best known for her 2008 smash hit "Mercy" had slipped away from the limelight for over a decade and while many just assumed she had pivoted in her career or fell prey to the fickle whims of pop music, the singer just returned to public life to share the unbelievable and heartbreaking story as to why she'd really been gone so long. In a vulnerable Instagram post, Duffy shared the story of how she was "raped and drugged and held captive over some days," and the long recovery to finding her voice again.
RELATED: 101 Strength Quotes That'll Make You Feel Like You Can Conquer Anything
"You can only imagine the amount of times I thought about writing this. The way I would write it, how I would feel thereafter. Well, not entirely sure why now is the right time, and what it is that feels exciting and liberating for me to talk. I cannot explain it. Many of you wonder what happened to me, where did I disappear to and why," Duffy began her letter.
She said that a journalist had reached out to her over the summer and she decided to open up and cited how it "felt so amazing to finally speak."
https://www.instagram.com/p/B8_95uYhFMQ/
Duffy went on to explain what happened to her during her absence, prefacing it that she's "ok and safe now."
"I was raped and drugged and held captive over some days. Of course I survived. The recovery took time. There's no light way to say it. But I can tell you in the last decade, the thousands and thousands of days I committed to wanting to feel the sunshine in my heart again, the sun does now shine," the singer wrote, while adding that "you wonder why I did not choose to use my voice to express my pain? I did not want to show the world the sadness in my eyes. I asked myself, how can I sing from the heart if it is broken? And slowly it unbroke."
Duffy thanked her fans for their kindnesses over the years and stated that she would be opening up soon in a "spoken interview" in the coming weeks.
The world is sending so much love for the singer as she emerges from and processes the trauma she endured.
This article was originally published on