Your 2020 Tree Needs This Dumpster Fire Ornament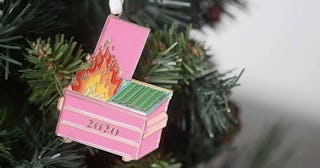 Strength and Grace Boutique
The dumpster fire is very on brand for 2020
Usually this time of year, many people are gearing up for the holiday season. We're decking our halls and getting ready to trim our trees, Christmas music already piping through our speakers. But this is 2020 where we can't look forward to anything lest we get disappointed when something else happens that leaves us with a mix of exhaustion and outrage even Santa himself can't fix.
We can't ignore 2020 or wipe it off the map however much we may want to, so why not embrace it this holiday season? (If you can't laugh you'll cry and all that.) When we bust out the tree this year, let's fill it with mementos of 365 brutal days gone by, and we can start with this glorious ornament that sums up 2020 in a nutshell.
Strength and Grace Boutique is blessing all our holidays with this 2020 Dumpster Fire Ornament. The ornament comes with "soft enamel with a gold metal backing" and an adorable "pink velvet ribbon to hang," because nothing says dumpster fire like a wee pink ribbon. It's adorable and honestly every tree needs one.
Given a global pandemic, homeschooling, wildfires, the political landscape, RBG's death, racial unrest and police brutality, murder hornets, and all of the other million things that seem to happen on a daily basis, it seems fitting to memorialize it somehow. When we look back in 20 years, we can be reminded that we made it through this year and came out the other side. Right? Right??
If dumpster fires aren't your thing, the boutique also makes a "The Shitshow 2020" ornament that will look spectacular on your tree. It's a simple and uncomplicated way to explain exactly what this year symbolizes — an actual show of shit flying through every news cycle, down every road, that ruins everything it touches.
If you need something a little lighter and pays homage to one of the greats, there's also this adorable Grinch-inspired ornament from Etsy shop owners Creations by Jim and Pam. The 2020 Stink Stank Stunk Mask Ornament shows the Grinch's hand holding a mask and it is the touch every tree deserves.
And who can talk about this year and not mention toilet paper (or the lack thereof). Now, thanks to DJs Brew Crafts, we can have a tiny memento on our tree that can double as more TP if we find ourselves in a pinch.
Finally, you mustn't miss this nod to Christmas Vacation, a film that is on most people's holiday list to watch at least five times between now and Christmas morn. Check out this 2020 Christmas Ornament The Year Everyone's Shitters Were Full Quarantine from Etsy shop owner Yippee Daisy.
There's no time like the present to get a little online shopping done so these beauties ship in time to don your holiday trees.