Duncan Hines Is Recalling Cake Mixes Because Of Salmonella Fears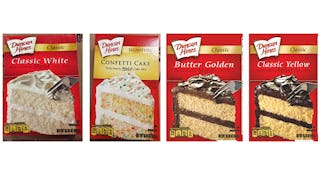 Image via Duncan Hines
The CDC is investigating five cases of salmonella with the same DNA fingerprint identified in a sample of Duncan Hines cake mix
Duncan Hines' parent company announced that they will be recalling four different types of cake mix due to potential Salmonella contamination.
The products affected are the brand's Classic White, Classic Butter Golden, Signature Confetti, and Classic Yellow. Conagra, the brand's parent company, said, "While it has not been definitively concluded that this product is linked to the outbreak and the investigation is still ongoing, Conagra has decided to voluntarily recall the specific Duncan Hines variety identified (Classic White) and three other varieties (Classic Butter Golden, Signature Confetti and Classic Yellow) made during the same time period out of an abundance of caution."
Conagra has provided specific information on how to know if your cake mix is affected by the recall including UPC codes and "use by" dates.
The voluntary recall stems from "a positive finding of Salmonella in a retail sample of Duncan Hines Classic White cake mix that may be linked to a Salmonella outbreak that is currently being investigated by CDC (US Centers for Disease Control and Prevention) and FDA." The DNA fingerprint found in the tested sample of Duncan Hines cake mix matches the one discovered by the FDA and CDC in five cases of salmonella poisoning.
The cake mix was found to be a possible culprit in those cases when people who fell ill told health investigators that they had eaten the cake mix before their symptoms started. Conagra pointed out in their statement that Salmonella is possible when consumers eat raw cake mix. "Consumers are reminded not to consume any raw batter. Cake mixes and batter can be made with ingredients such as eggs or flour which can carry risks of bacteria that are rendered harmless by baking, frying or boiling."
The FDA will be investigating the facility where the cake mixes were made and testing more product samples, according to CNN.
The statement from the FDA and CDC reminds consumers of the symptoms to watch for in Salmonella poisoning. "Healthy persons infected with Salmonella often experience fever, diarrhea (which may be bloody), nausea, vomiting and abdominal pain. In rare circumstances, infection with Salmonella can result in the organism getting into the bloodstream and producing more severe illnesses such as arterial infections (i.e., infected aneurysms), endocarditis and arthritis."
Conagra says anyone who has purchased the recalled flavors should not consume them and are advised to return them to the store where they were purchased. "Consumers with questions should call our Consumer Care team at 1-888-299-7646, open 9 am through 5 pm EST, Monday through Friday or visit www.duncanhines.com."
This article was originally published on