The Rock's Daughter Just Told Him She Likes His 'Brown Boobies' And Same
by Julie Scagell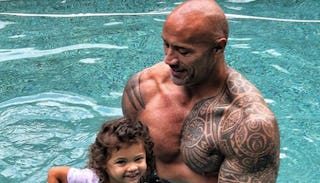 Image via Instagram/The Rock
Dwayne Johnson was home for some family time in the pool
One of the best things about kids is they get to say exactly what they're thinking at all times, which makes them dangerously funny. Dwayne "The Rock" Johnson shared one such moment over the weekend when he was swimming with his daughter and she decided to comment on one particular body part of his.
The 46-year-old actor was home spending time with his family, including two-year-old daughter, Jasmine, likely off the heels of the release of his blockbuster movie Skyscraper. "Great to recharge the batteries this weekend, back home with all my girls and teaching this lil' tornado how to swim," Johnson wrote on Instagram.
And what an adorable and sweet moment between father and daughter until he took his shirt off and she said "Daddy I like it your brown boobies."
The Rock was quick to correct her, saying, "Thank you baby, but daddy has pecs, not boobies."
Johnson is used to being shirtless. The former WWE wrestler, action film star, and gym rat frequently goes sans shirt for some or all of these roles. It's probably pretty rare though to get called out on his bod, because let's face it, it's delicious perfection (sorry, Jasmine).
For the father of three, this probably wasn't the first time he's heard such, um, compliments because kids have zero chill. I remember showering with my then five-year-old son when he looked up at my chest and said, "you have big meatballs, mom." And with that, our joint showers were over.
When Johnson's not sharing adorable dad posts, he can be found weighing in on everything from (ahem) taking care of your woman to blending into a crowd while traveling. No matter what, he's always down for entertaining his fans, even at his own expense, finishing off his post with the hashtag #MrBrownBoobs.
Johnson recently welcomed his third daughter, Tiana Gia with partner Lauren Hashian, so he's likely in for these kinds of shenanigans for the next, say, lifetime.
Man, do these two make adorable (and funny) kids. I think I speak for everyone when I say please keep sharing them with us.
This article was originally published on