The Rock Says His Daughter Took Her Job As Flower Girl At His Wedding Very Seriously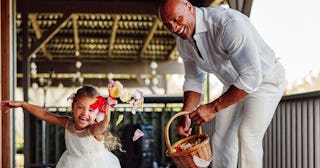 The Rock/Instagram
The Rock keeps blessing us with more and more photos and stories from his wedding and we are so here for it
In case you live under a rock (and boy do I wish I did, if you know what I mean), Dwayne "The Rock" Johnson just got married to his longtime partner, Lauren Hashian. Since the wedding, which looked like an absolutely idyllic ocean-side ceremony that they held in Hawaii, our favorite pile of muscles disguised as a human has been blessing us with wedding photo after wedding photo on his Instagram. We are so here for this.
RELATED: These Flower Girl Dresses Will Probably Steal The Show (Sorry, Bride)
In the latest series of shares, The Rock revealed that his and Hashian's daughters, 3-year-old Jazzy and 1-year-old Tiana, served as their flower girls, a role that Jazzy in particular apparently took very seriously. As one should, because flower girl duties are nothing to slack off on.
Alongside photos that have my ovaries legitimately aching, The Rock shared some stories from his big day, including this hilarious one about how he tried to get Jazzy to "rehearse" before her big flower girl moment and, well, she's sure his kid.
"In the few minutes before the ceremony we took to practice, I quickly realized she was determined to not gently lay the flowers, but rather intensely throw the flowers with ruthless aggression ~ and a wicked smile," he wrote. "Hell. Yeah. That's my daughter!"
Ugh, these two are utter daddy-daughter perfection.
Alongside another photo, The Rock shared a story of a little mishap that happened during the ceremony, and how he's using it to teach Jazzy a lesson that will stick with her her whole life.
"In her excitement & joy of being flower girl, Jazzy took a spill while walking down the aisle and all the petals fell outta the basket," he wrote. "She didn't cry, and without hesitation she started picking them up and putting them back in the basket. This moment was a cool & critical (and beautiful) microcosm for a much bigger thing in her life – you will stumble and fall. We all do. But be accountable, get back up, dust yourself off, laugh and keep on going down the road."
He added at the end, "Proud of my lil' girl's instincts," and I'm not crying, you're crying!
Since the big day, both The Rock and Hashian have been gifting us with photo after photo that we can use to tearfully celebrate their love, and I personally hope they never stop.
In particular, I believe I speak for everyone on Earth when I say I politely request more wedding photos featuring Tiana and Jazzy.
But honestly? Anything celebrating these two, who are constant #CoupleGoals, will do.
Congratulations to The Rock and Lauren Hashian! And keep the wedding pics coming, please and thank you.
This article was originally published on